In Brief: Inside Out exec changes, Lantos gets int'l award
Andria Wilson (pictured) is the organization's new exec director, First Weekend Club and Women in the Director's Chair partner on a new VOD channel, and more news.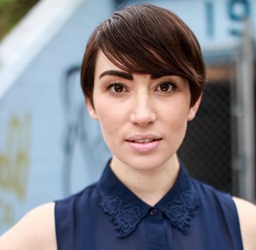 Andria Wilson joins Inside Out
The board of directors of Inside Out, which presents the annual Toronto and Ottawa LGBT film festivals, has appointed Andria Wilson as its new executive director. Wilson succeeds Scott Ferguson, who stepped down after 15 years with the organization. Wilson co-founded OUTeast, Atlantic Canada's Queer Film Festival in 2011 and previously served as operations manager for the East Coast Music Association.
Robert Lantos to receive Camerimage award
Veteran Canadian producer Robert Lantos is the recipient of this year's Camerimage Award for a Producer with a Unique Visual Sensibility. Lantos will travel to Bydgoszcz, Poland to receive the award at the 24th edition of Camerimage Festival. The award recognizes the producers' more than 40-year career working with Canadian filmmakers such as Atom Egoyan, David Cronenberg and Denys Arcand.
Female director-focused VOD channel launches
First Weekend Club's video-on-demand service, Canada Screens, has launched a new channel dedicated to Canadian female directors. The channel will be curated by Women in the Director's Chair, and includes titles such as Chloé Robichaud's Sarah Prefers to Run, Kari Skogland's The Stone Angel and Mary Harron's The Moth Diaries. Each feature will also be paired with a short film directed by a women, presented by the National Film Board of Canada. The new service launched Oct. 27 in Vancouver at a screening of Siobhan Devine's The Birdwatcher. 
Planet in Focus fest names award winners
Craig Norris' Kokota: The Islet of Hope took home best Canadian short at the 17th annual Planet in Focus Environmental Film Festival. Along with the honour, Norris was awarded a $500 prize. Best Canadian feature went to Peter Svatek for Theater of Life, who also took home a $750 prize. The Green Pitch Prize, which was this year worth more than $35,000 in services and cash, was awarded to Noe Sardet, Jean-Marc Abela and Sharif Mirshak for The Soil Chronicles, a web series project focusing on the role global soil health could play in stopping climate change. Other winners included Steve McDonald in the best international short category for The Rainmakers of Nganyi (South Africa), Patrick Shen in the best international feature category for In Pursuit of Silence (USA), and Zhao Liang received the Mark Haslam Award for Behemoth (China).
NFB launches Instagram project
The National Film Board of Canada has created an Instagram companion piece to its short documentary This River. The Instagram project, entitled What Brings Us Here, is created by filmmaker Katherena Vermette and NFB producer Alicia Smith and profiles volunteers of Drag the Red and Bear Clan Patrol. Both grassroots organizations patrol neighbourhoods and search the banks of the Red River looking for missing people in their community. What Brings Us Here, from the NFB's North West Studio, combines more than 80 photos and statements from the volunteers in an Instagram photo-essay, which will be rolled out until the end of November. The NFB's David Christensen serves as executive prodcuer on both This River and What Brings Us Here.