Take the Shot aims for global success with Frontier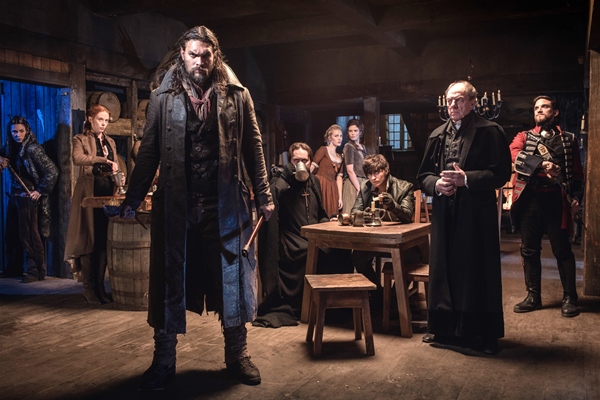 Creators Rob and Peter Blackie on how they've tailored the show to appeal to "everybody."
Rob and Peter Blackie of St. John's-based Take the Shot Productions have big – as in global – aspirations for their new historical drama, Frontier.
Frontier, which was commissioned by Discovery Canada as its first-ever scripted series, is produced by Take the Shot and ASAP Entertainment in association with Discovery.
The series is set in 18th-century Canada and told from various perspectives as multiple factions battle for control of the country's resources. It premieres on the Bell Media specialty channel in Canada on Nov. 6 and on Netflix in international markets in early 2017.
"We want the story to translate to as many cultures and as many languages as possible," said Rob Blackie, who, alongside Peter, also serves as executive producer. "Our highest aspirations are that it would appeal in some way to everybody. We've often said that the multiple perspectives of the storytelling are meant to tell as full a picture and as close to an overall truth of circumstance as we can and in doing so reach people that are from different generations and from different ethnic origins and orientations," added Peter.
The Blackies say Discovery Canada and specifically its director of Commissioning and Production, Edwina Follows, aspired to tell a story, based in truth, that still had the flexibility of a scripted drama.
"For us, that was a fantastic opportunity to go into an area that we'd not been before but one that is so central to North Americans in general, but specifically Canadians. It had us staring the origins of what we consider contemporary Canada right in the face," said Peter.
To appeal to as broad an audience as possible, the creators made several important creative decisions. First, they decided to use more present-day language. "We made a conscious decision to not use the language as it was spoken then. We've allowed a slightly more modern manifestation of the language because the things that we actually want to talk about are the fundamental aspects of the human condition – that's the meat of what the storytelling is about, not necessarily about particular details," said Peter.
They also wanted to include more women in the narrative. "We have a pretty diverse range of individuals. One of the conscious decisions that we've made with our shows is yes, this is set in the late 1700s and much of it is set in an area where there were not many [European] women living and working. But in our research we often found that there were always individual or small clusters of exceptions to the rule of the day," said Peter. "We've chosen to really embrace that and try to keep to historical truths, but allow ourselves to tell the story from a female perspective as well."
Of course, having Netflix as an international broadcast partner will also help the audience reach a wider audience.
"Netflix is in the process of translating the show into 20 different languages. We were delighted and shocked to hear that number. That's another part of the enormous, enormous access to the market that you get with their involvement," said Rob.
Once Netflix boarded the project, Rob added, it meant the creators could increase the scope of the production. "It just meant more resources to draw a bigger cast and essentially to scale the show up and make it a larger-scale production than we would have without their involvement," he said.
Discovery Canada has already greenlit season two of the series, which is currently filming in St. John's, Cape Breton, N.S., Ottawa and Cornwall, U.K.
Executive producers on the show are Take The Shot's Rob and Peter Blackie, Alex Patrick, John Vatcher, Allan Hawco, Perry Chafe, and Michael Levine. For ASAP Entertainment, Brad Peyton and Jeff Fierson executive produce.