Porcupine Lake a film of firsts for Ingrid Veninger
The veteran Toronto-based filmmaker chats about doing things differently on her Port Severn, ON-shot sixth feature film.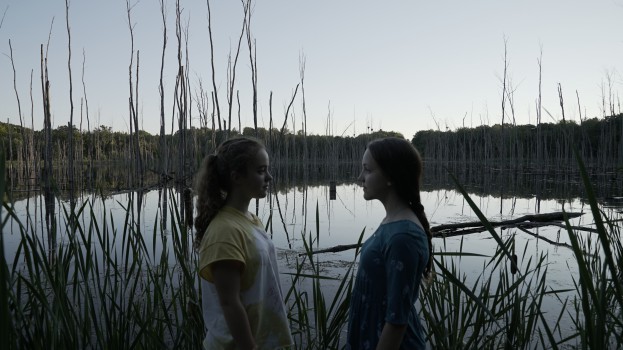 Though Porcupine Lake is Ingrid Veninger's sixth feature-length project, the coming-of-age film has offered a lot of firsts for the veteran Toronto-based filmmaker.
The film is her first to be shot with a distributor already attached, her first project to receive Harold Greenberg Funding and the first to emerge from the Punk Films Femmes Lab program, to name a few.
Shot in Port Severn, ON this past summer, the feature, which is produced through Veninger's production shingle Punk Films, tells the story of two young-teenage girls as they negotiate adolescence. The first draft of the script was written in 2014 during the inaugural Punk Films Femmes Lab, which Veninger launched via her prodco with the goal of having six women complete six features scripts within six months. The program participants were Danishka Esterhazy (H&G), doc maker Michelle Latimer (Alias), Sophie Deraspe (Missing Victor Pellerin), Mars Horodyski and actor Anais Granofsky, as well as Veninger.
Veninger started the program because she felt that, when she went to festival, she would see great films both written and directed by women, but these same women were not returning with second, third and fourth feature films. Veninger's script is the first from the Femmes Lab to be converted into a film though she hopes some of the other scripts will also becomes features one day too.
"Many women were making one [feature film] and then disappearing. It made me want to start an intensive writers group for Canadian women who were interested in creating a body of work in narrative fiction features," Veninger told Playback Daily. The Femmes Lab first got off the ground when U.S. actress Melissa Leo pledged $6,000 to kickstart the program at the Whistler Film Festival in 2013.
Even with what she felt was a strong first draft under her belt, Veninger was unsure whether the script would ever translate into a film. Then, when her fifth feature, He Hated Pigeons, took her to Chile, Porcupine Lake was put on the back burner indefinitely.
It was only October 2015, when Veninger was accepted for the inaugural Hedgebrook Screenwriters Lab in Seattle, that she returned to the project. Under the mentorship of Emmy award-winning screenwriter Jane Anderson (Olive Kitteridge) and Sex and the City writer/producer Jenny Bicks, the second draft of Porcupine Lake began to take shape.
"They really kicked me in the ass and told me I had to make the film," said Veninger.
After securing Telefilm funding and Films We Like as the Canadian distributor, shooting took place over four weeks in August and September. The film is currently at the editing stage, with Veninger expecting to have it finished and ready for festival submissions before the end of the year.
This is also the first time Veninger has ever completed a film in the latter part of a calendar year, which she said opens up a new raft of options with regards to world-premiering Porcupine Lake. Currently she is eyeing Sundance, Berlin and Rotterdam as potential festivals to debut the film.
Porcupine Lake is written, produced and directed by Veninger and executive produced by Randi Kirshenbaum and Melissa Leo. Also involved in the project was Benjamin Lichty (director of photography), Michael Yerxa (Casting Director), Braden Sauder (Sound Recordist), Hallie Switzer (Costume Design), Chris Mutton (editor), Jakob Thiesen (sound design), Eric Apps (re-recording mixer) and Michael O'Brien and Carlin Nicholson (composers).
The film stars Charlotte Salisbury, Lucinda Armstrong Hall, Christopher Bolton and Delphine Roussel and is funded by Telefilm, HGF, Films We Like, as well as provincial and federal tax credits.
Another first for Veninger is that the film will accompanied by a "making-of"-style documentary, which was filmed on the set of Porcupine Lake. More than 100 hours hours of documentary footage were shot during the making of the film. "It's the first time I've been open to exposing the process in this way," said Veninger.
Photo credit: Julian Papas