Motion 58 heads back to school
Judy Greer is set to front Josh Epstein and Kyle Rideout's latest CFC-backed project Public Schooled.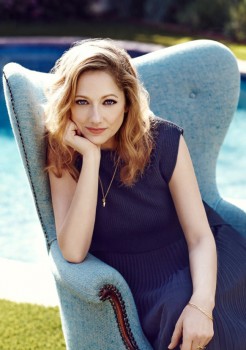 Eadweard producer Motion 58 has unveiled its next project in the form of Judy Greer-starring comedy feature Public Schooled.
Financially backed by the CFC Features program and Telefilm, production begins Nov. 22 in Vancouver on the film, which is co-written by Motion 58 founders Josh Epstein and Kyle Rideout. Filming is set to wrap in late December.
Epstein told Playback Daily that while he and Rideout penned Eadweard and Public Schooled at the same time, they felt it made sense to make Eadweard first in order to showcase what they were capable of.
"We always felt like we would have to make Eadweard ourselves, because we didn't think anyone was going to trust two young, inexperienced filmmakers to make an epic, period film," he said. "We felt we'd have an easier time getting people on board with Public Schooled."
And so it proved, with Eadweard winning a Canadian Screen Award for Best Adapted Screenplay, a slew of awards at the 2015 Leo Awards and nabbing a U.S. acquisition by Gravitas Ventures.
Public Schooled will be produced by Epstein and directed by Rideout, with executive production handled by director and exec producer of CFC Features Justine Whyte (Rhymes for Young Ghouls).
In the film, Greer plays the role of an overly protective mother, who home-schools her socially awkward teenage son Liam. When Liam falls in love with a popular one-legged girl, he abandons his mother's suffocating love and enrolls in public school, entering a world of sex, drugs and social studies.
The script for Public Schooled was developed initially through the CFC's Telefilm Canada Feature Comedy Exchange, which allowed the Epstein and Rideout to also further develop the screenplay in Just For Laughs, National Screen Institute's Features First program, Independent Filmmaker Project's (IFP) No Borders program, and Corus Entertainment and Whistler Film Festival's Feature Project Lab.
Motion 58 also has a first-look TV deal with Motive producer Lark Productions, through which the companies are currently developing two projects: Anything Co. and Black Box.
The prodco is also in development on feature film Monoceros, which Rideout and Epstein hope to shoot next year. The project, which is based on the novel by Canadian author Suzette Mayr, was previously involved in Whistler Film Festival's Praxis Screenwriters Lab.
Epstein and Rideout were also recently signed by Toronto-based film and television literary agency The Jennifer Hollyer Agency.