In brief: Cameras roll on CBC's Anne, Comedy Net preps The Beaverton
Amybeth McNulty (pictured) nabs the Anne Shirley role, Apartment 11 and CBBC's Rank the Prank gets Nickelodeon premiere date, and more.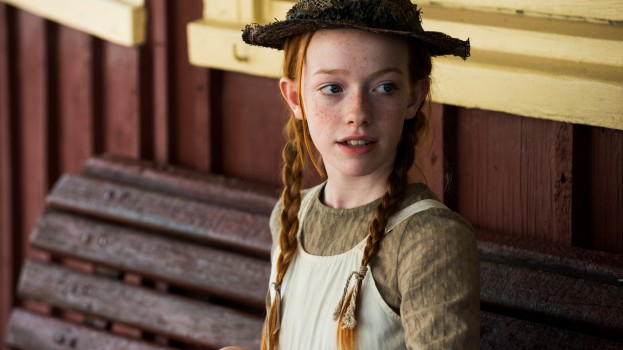 Production underway on CBC's Anne series
Filming is underway on CBC's Anne of Green Gables (8 x 60 minutes) series. Production first began on Prince Edward Island in September and is now relocating to Ontario for the remainder of the shoot. With 14-year-old Irish-Canadian actress Amybeth McNulty cast in the role of Anne, the series is scheduled to premiere on CBC and Netflix in spring 2017. Also starring in the series are Geraldine James (Sherlock Holmes) as Marilla and R.H. Thomson as Matthew. The series is written by Moira Walley-Beckett, directed by Niki Caro and produced by Northwood Entertainment. Exec producers on the project are Walley-Beckett and Northwood's Miranda de Pencier.
Comedy Network preps The Beaverton
The Comedy Network has set Nov. 9, the day after the U.S. presidential election, for the debut of satirical comedy series The Beaverton. Airing in the 10:30 p.m. slot, the 13-episode show will serve as a lead-in for The Daily Show, hosted by Trevor Noah. In addition to co-anchors Emma Hunter and Miguel Rivas, the series will also star Aisha Alfa, Laura Cilevitz, Donavon Stinson, and Marilla Wex as correspondents on the fake news show. The half-hour series is co-created by Luke Gordon Field and Jeff Detsky of TheBeaverton.com, as well as the website's senior editors Jacob Duarte Spiel and Alexander Saxton. The Beaverton is produced by Pier 21 Films in association with The Comedy Network.
Rank the Prank gets Nickelodeon, BBC Kids debut
Rank the Prank, coproduced by Montreal's Apartment 11 and the U.K.'s CBBC Productions, will debut Oct. 24 on Nickelodeon for audiences in the U.S., Europe and international markets. The 13-episode practical joke show pairs kids with special effects experts to stage hidden-camera pranks. It will debut in Canada on Jan. 30 on BBC Kids. The series was developed by CBBC Productions, led by Ben Armstrong. Apartment 11′s Jonathan Finkelstein executive produces alongside CBBC's Sid Cole. Producers on the series are Jaymie Hansen and Nick Hopkin.

The Apology wins at Busan 
Tiffany Hsiung's The Apology won the Busan Cinephile Award at this year's Busan International Film Festival. The feature documentary follows the lives of three former "comfort women," who were kidnapped and forced into sexual slavery by the Imperial Japanese Army during WWII. The Apology had its world premiere at Hot Docs in 2016. The film was written and directed by Hsiung and produced by the NFB's Anita Lee.
Reelworld Film Festival award winners named
The Reelworld Film Festival in Toronto has wrapped its 16th edition. The activism-focused film festival presented 10 features, 15 shorts, six VR and six virtual gaming experiences over the course of five days. Winners of the festival's annual awards were announced on Oct. 15 at the Harbourfront Centre Theatre. Fernando Arrioja's A Man's Story (Canada) won the Reelworld Impact Award for best short, while Deirdre Fishel's Care (U.S.) won for best feature. The Affolter Brothers' Counter Act (Canada) won the NOW Magazine Audience Award for best short, while Michael Collins and Marty Syjuco's Almost Sunrise (U.S.) won for best feature.
Deluxe Toronto adds to team
Bill Ferwerda has joined Deluxe Toronto as its senior colourist. Ferwerda has more than 20 years of colour correction experience and has previously worked at Magnetic North and Notch, among others. Ferwerda has won seven Bessie Gold Craft awards for Best Colour Correction in the Canadian Ad Industry, as well as several Clios. "Bill is a talented artist with an impressive ability to work in various disciplines. He likes to experiment and push the boundaries, always offering his clients a variety of looks and solutions. He is an excellent addition to our roster of creative talent that also includes Chris Wallace and Joanne Rourke," said Nick Iannelli, SVP of post-production for Deluxe in Toronto, in a release.