Deals: Breakthrough, Blue Ant, Hollywood Suite, eOne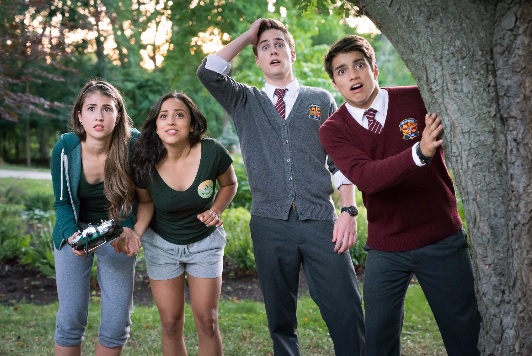 With MIPCOM wheeling and dealing in full swing, a look back at some of the week's deals, including Blue Ant, Radio-Canada and Aircraft's Bruno & Boots MOW (pictured).
Breakthrough Entertainment
Toronto-based Breakthrough Entertainment has sold the made-for-TV movie Bruno and Boots: Go Jump in the Pool into a number of international territories. Produced by Aircraft Pictures, in association with Corus' YTV, Go Jump in the Pool is the first installment in the Bruno and Boots trilogy, with production currently underway on the second and third films in the trilogy. Breakthrough, which handles international distribution for the films, licensed Go Jump in the Pool to Nickelodeon (Europe/Australia), HBO Eastern Europe, and Disney Latin America. 

In other news from Breakthrough this week, the company signed a five-year global L&M agreement top support its Anne of Green Gables film franchise. Read more here.
eOne
Corus Entertainment's Treehouse channel has acquired the Canadian rights to eOne-owned preschool property Ben & Holly's Little Kingdom. Treehouse acquired the first and second seasons of the series, with episodes set to begin airing on Oct. 24 at 8 p.m. eOne is currently preparing a line of consumer products for release in Canada
Blue Ant International
After taking its largest ever slate to MIPCOM 2016, Blue Ant International has announced the sale of more than 300 hours of content to Western European and Asian broadcasters. The distribution arm of Blue Ant Media sold 240 hours of natural history content to AB Groupe channel Ultra Nature (France) on a two-year deal, as well as 60 hours of programming to Now TV (Hong Kong). Among the series sold to Now TV was Kenya Wildlife Diaries (6 x 60 minutes), Undiscovered Vistas (14 x 60 minutes), Extreme Africa (6 x 60 minutes) and Mysteries Of Evolution (6 x 30 minutes). In addition, Amazon Prime Video (Japan) picked up four series from Blue Ant, including Great Parks of Africa (6 x 60 minutes) and Africa's Wild Horizons (6 x 60 minutes), and Autentic GmbH (Germany) took Nomads of the Serengeti (5 x 60 minutes).
Borealis
Sean Garrity-directed feature Borealis has been sold into multiple international territories by its international sales agent Archstone. The film, which won the Special Jury Award at the 2015 Vancouver International Film Festival, was picked up in Yugoslavia (Blitz), Czech Republic (HBO Europe), China (Hymedia), Middle East and North Africa (IFD), Taiwan (IPA) and CIS/Baltics (Pathfinder). The film had its U.S. premiere in May, opening the Brooklyn Film Festival. In Canada, the film was released in April through Northern Banner, while in the U.S., Archstone will release the film in December on VOD, iTunes and other digital platforms. Borealis is produced by Jonas Chernick and Liz Jarvis and executive produced by Phyllis Laing, Andrew Hunt, Michael Paszt, James Fler, Erla Glesby, Kevin Pollak and Mark Gingras.
Radio-Canada
Radio Canada has acquired the exclusive French Canadian broadcast rights to CGI series Nils Holgersson (52 x 12′ minutes) and The Wild Adventures of Blinky Bill (52 x 12 minutes). Studio 100 Media is currently in production on both series ahead of a 2017 launch date. Radio-Canada also acquired the non-exclusive Canadian streaming rights to both series.
Media Ranch
Montreal-based Media Ranch has sold the rights to its True Sex Confessions series to Italian free to-air-channel Cielo. The Sky Italia-owned channel acquired both the original series and the format rights. Zodiak handles international distribution of the series. 

Hollywood Suite
Specialty channel Hollywood Suite has acquired the rights to the James Franco documentary F for Franco. Directed by Dr. Francisco Ricardo, the doc examines the creative methods used by Franco and will debut on Saturday, Nov. 5 at 9 p.m.
Quebecor Content
The content creation, acquisition and distribution division of Quebecor Media has announced a deal with DHX Media for children and youth programming for its Sélection illico and Club illico platforms, as well as its Yoopa channel. Read more here.

Thunderbird
Vancouver-based Thunderbird Entertainment has signed a first-look deal with newly launched Skybound North. Read more here.