Northeast Films horror flick rolls into Nova Scotia
With production underway in Halifax, producer Bill Niven chats about re-working the film's financing model after the provincial tax credit was eliminated. (Star Amy Groening pictured.)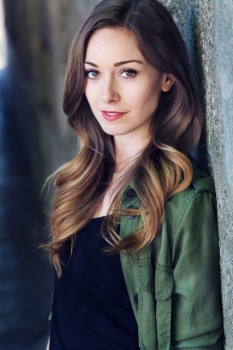 Northeast Films' horror/thriller project Halloween Party was in the final stages of development in April 2015. But then the party got indefinitely postponed.
When the Nova Scotia government scrapped the tax credit in favour of the Nova Scotia Film and Television Production Incentive Fund (NSFPIF), the producers found themselves without a large chunk of the provincial funding they were counting on.
"When they took that away, it left us significantly short," producer Bill Niven (The Book of Negroes) told Playback Daily. "We lost a whole year, actually."
Niven and writer/director Jay Dahl (There Are Monsters) went back to the drawing board to re-work the film's funding model, eventually finding a way to make the film on a budget of less than $1 million, with investment split between the Production Incentive Fund, Telefilm and a distribution advance from D Films, as well as some additional financing coming from Northeast Films. The project also received development funding from Harold Greenberg Fund.
Now renamed as But What Are You Really Afraid Of?, filming got underway Wednesday in Halifax, Nova Scotia. The film stars Amy Groening (Goon, Todd & the Book of Pure Evil), T. Thomason (Owl River Runners, Dawg) and Shelly Thompson (Trailer Park Boys, Sex & Violence).
The feature, which centres on a college student who releases terrifying entities via a Halloween-themed computer meme, will shoot throughout Halifax until Dec. 2.
The primary audience is a male-skewing 18-to-24 year-old crowd, said Niven, though he believes the film will have a broader appeal than that. Though But What Are You Really Afraid Of? is technically a horror, Niven added that the project contains no gore and has many elements of a thriller.
Northeast also has a number of other projects in development currently, including a one-hour scripted drama with eOne. Dahl is currently penning the script for the in-development project, which Niven said is still in the very early stages.
In addition, Northeast is developing two feature comedies, one of which is a contemporary urban comedy called What's Wrong With You? Northeast is also developing a seven-part anthology feature film, which is comprised of seven short films from female directors (four from Newfoundland and three from Nova Scotia). Titled Hopeless Romantic, the film, which is about the state of relationships today, is loosely scheduled to shoot in Newfoundland and Nova Scotia next summer.
In terms of how Nova Scotia industry is utilizing the Production Incentive Fund, Niven said it currently favours projects with larger budgets.
"The way it is now, I think it's better for bigger projects, and certainly service projects that come in. But for lower budget, local filmmaking and emerging filmmakers, it's still a struggle," he said.