Kayaking for Beginners rolling in B.C.
Scythia Films' Daniel Bekerman discusses bringing the family feature to life.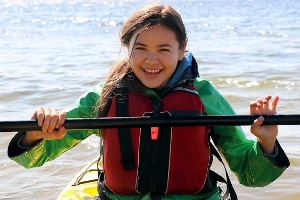 Production is underway in B.C.'s Great Bear Rainforest on Kayaking for Beginners, a family feature produced by Sheryl Kotzer and Scythia Films' Daniel Bekerman.
The film, which is written and directed by Zoe Hopkins (Mohawk Midnight Runners), follows a young girl determined to stop oil tankers from passing through the waters of her homeland.
Bekerman told Playback Daily that, while he and Kotzer were involved with the project for several years, it wasn't until Hopkins came on board that the film really took shape.
"Zoe is an Indigenous Canadian writer and director," he said. "She took this script and made it a story that was personal to her, which was exactly what needed to happen."
While the film discusses "several incredibly important pivotal issues" in Canada right now, at it's core, Bekerman said this is a movie about someone who is faced with a big challenge who doesn't feel up for the job.
"People relate to narrative feature films, not because it's the topic they care about, but because it's a story they can relate to and a perspective they can relate to. That's what we've always kept in mind," he said. "To me, this is an important story that might have meaning to a lot of people both on just a human level and on a topical level. The idea is to tell a story that meant enough to people that they would go out to the theatre to see it."
As for target audience, this family film is aimed at both kids and adults alike, said Bekerman.
"The protagonist is an adolescent so it lends itself to that age group as an audience, but from the very beginning of the project the intention was to avoid the pitfalls of certain family film tropes of pandering to kids and thus limiting the audience," he said. "We wanted to make something that has a young person's perspective and would therefore be very relateable to them but ultimately is universal to more than that specific age group."
Executive producers on the project are Alex Ordanis, who served as an associate producer on the Oscar-nominated short Claude Lanzmann: Spectres of the Shoah, as well as Christopher Yurkovich (Opening Night) and Scythia Films' Ethan Lazar (The People Garden).
The film stars Ta' Kaiya Blaney (Savage), a member of the Tla A'min Nation and ambassador for Native Children's Survival. Joining Blaney on screen are Sonja Bennett (Preggoland) and Lorne Cardinal (Corner Gas).
Filming is set to wrap Oct. 29.