Muse, Superprod in production on Helen's Little School
The Montreal and Paris-based producers will shop the Canada/France copro at MIPCOM.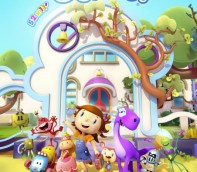 Production is underway on Helen's Little School, an animated preschool series produced by Montreal's Muse Entertainment and Paris-based Superprod.
The 52 x 11-minute series is being made for Knowledge Network, Télé-Québec, TFO, France Télévision in France and BBC Kids in the U.K., with the preschool property also securing a pre-sale to Discovery Kids in Latin America.
Helen's Little School will be shopped at MIPCOM later this month, with Superights handling global sales of the series. In Canada, Muse Distribution International will handle distribution.
The series follows six-year-old Helen, whose dream is to one day become a teacher. For now, she pretends she's the head of her own classroom, with her toys (which have come to life) acting as her students. Production is currently underway in Superprod's Paris office, with animation work to be completed in Montreal.
In other Muse news this week, the company acquired the rights to screenwriter and author Ken Pisani's novel Amp'd. The Montreal producer is developing the property as a half-hour TV comedy, with Muse's Michael Prupas and Joel S. Rice executive producing the project. Pisani's novel tells the story of Aaron, whose life is changed after a car accident leads to the amputation of his left arm.