Three Canadian VR experiences to be presented at FIVARS
CFC Media Lab's The Closet is among the projects being presented at the Festival of International Virtual and Augmented Reality Stories in Toronto.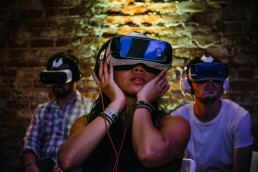 The Festival of International Virtual and Augmented Reality Stories aims to push the boundaries of these new technologies.
Three Canadian virtual reality experiences will be presented as official selections at the Festival of International Virtual and Augmented Reality Stories (FIVARS) in Toronto this weekend.
The Closet, a CFC Media Lab production from director Ian Tuason and producer Ana Serrano, follows a young man who is investigating a supernatural force in his new home.
Toronto's Cream Productions will present a five-minute VR experience, Wild Things, which follows Dominic Monaghan, the host of Cream's popular Wild Things with Dominic Monaghan series as he explores far-flung countries around the world looking for weird and wild creatures.
The Key, from director Elli Raynai's production company Cinehackers, will also be shown at the fest. The narrative VR experience allows the viewer to act as the protagonist as he or she attempts to explore a traumatic memory.
For festival founder Keram Malicki-Sanchez, the goal of presenting these experiences isn't just to introduce audiences to this medium, but to challenge creators to do more with this nascent technology.
"I wanted to create a festival that didn't simply bring this 'Gee whiz! Isn't this fun?' component, but [one that] actually challenges all of those disciplines to discover and create new mechanics inside of the material," Malicki-Sanchez told Playback Daily.
To be considered in the festival, which is now in its second year,  an experience must tell a story – it must do more than just drop a viewer into a three-dimensional space, for example – and also demonstrate a unique mechanic, such as multi-directional sound, Malicki-Sanchez said.
While he of course hopes that audiences will appreciate the 30 experiences that will be presented at the fest, he also hopes to measure and learn from the experiences they don't like.
"We are as inviting of pieces that may become colossal failures in terms of how they resonate with audiences as we are with successes. In looking for those failures, we are learning how not to do things and how to improve them," he said.
Because we're just in the "GeoCities-age" of VR and AR, Malicki-Sanchez said, the technologies need to be continually improved and nurtured.
As for the big question facing this technology – will there actually be a consumer demand? – Malicki-Sanchez said we need to create content that isn't simply "TV-plus," but content that offers something new.
"If I can go on a mission to Mars, I'm willing to pay $29 if going on that mission over and over again allows me to experience and learn and investigate more information by going," he said. "I think it's going to be that kind of nonlinear, asynchronous experience that will really get us to start investing in this because it will be a unique medium that is unavailable via any other option."
FIVARS runs Sept. 16 – 18, 2016 at the MSMU Studio in Toronto.