The 2016 New Establishment: Arcana Studio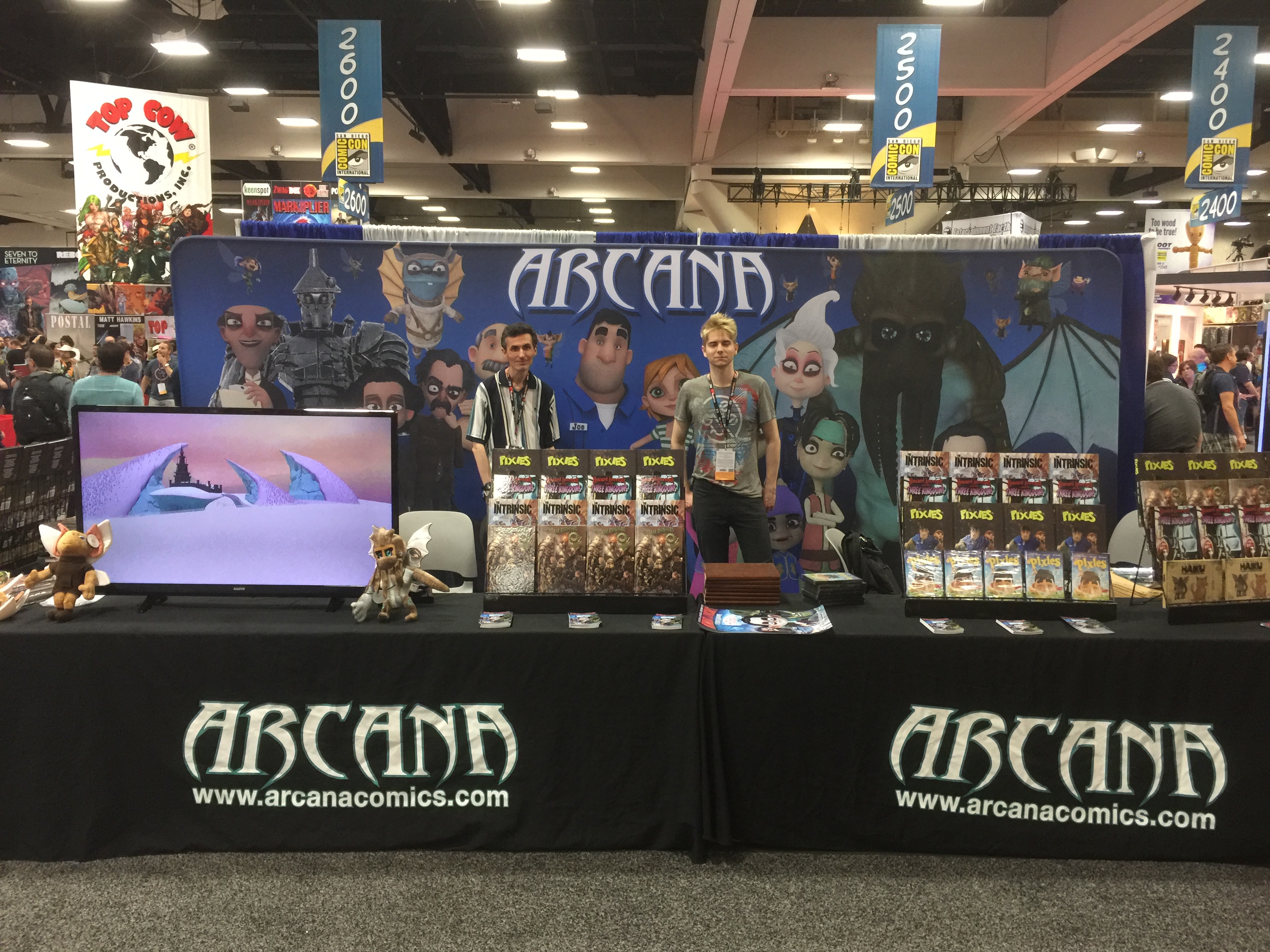 From Playback magazine: Comic publisher-turned-feature producer Arcana is creating a mini-studio model in which its original storyworlds can thrive.
After experiencing a number of business-related bumps and bruises, CEO Sean Patrick O'Reilly decided it was time for his company, comic-book-publisher-turned-animation-house Arcana, to bring all its operations in-house. Losing members of his freelance animation team in the downtime between projects was becoming increasingly disheartening (never mind the vagaries of working with a rotating wheel of outside partners) and O'Reilly came to a conclusion: rather than focus on one movie at a time, he must move to a studio-style model, build a slate and roll staff from one film to the next.
The reason, he says, is simple: control.
"If I cannot control the process, I cannot control the outcome," O'Reilly says of what he jokingly calls Arcana's "farm-to-fork" model, which sees the company now handling IP creation (creating and publishing its comics), pre-production (developing projects at its studio in Maple Ridge), production (at Arcana's animation studio in Burnaby) and sales.
In the past 12 months, the Vancouver-based animator has brought on 20 full-time staff, delivered its first fully in-house produced feature, Howard Lovecraft and the Frozen Kingdom (which has been pre-sold to 40 countries), secured a three-picture deal with U.S. distributor Shout! Factory, and gone into pre-production on a feature with comic book legend Stan Lee (The Unknowns). As well, most recently, the company formed a partnership with China's Yisang Media to produce 3D animated feature Pandy, which will be released in Chinese and international markets.
From 2004 to 2010, Arcana's primary strategy was to option its comics to other producers (Bron Studios, for example, turned Arcana comic Paradox into a feature). However, O'Reilly grew weary of selling his IP on a one-off basis and shrinking his library. "The comics did well for me as individuals, because the sales were great when they came. But to actually build a company, it's the IP assets that are absolutely invaluable to our future growth."
Though O'Reilly says the time it takes to complete a film (versus a comic) can occasionally be frustrating, Arcana is dramatically quickening its turnaround. In production on series Kagagi from 2012 to 2014, Arcana then spent nearly two years on Pixies (which has been translated for 120 countries) before turning around the first of its H.P Lovecraft films in a little over a year. O'Reilly now estimates the trilogy's second and third installments will take between six and nine months to complete.
Asked whether he sees companies like Disney or Pixar as his competition, O'Reilly says he doesn't even look at them. "What we're doing is very different. Those are very broad, quadrant-based movies. Our movies are a little more unique, and speak to more segmented audiences." That comes with its own set of challenges though, he says, as international buyers are sometimes concerned that Arcana's material may be too tense for the younger viewers.
"We're more in the vein of Tim Burton, or [Focus Features and Laika Entertainment's] Coraline. It's not quite The Good Dinosaur, but an edgier, darker version," he explains.
In a world where IP ownership is king, O'Reilly is confident Arcana is well-poised for the future, and is especially excited about VR.
"I want to create a new IP in comics, movies and VR where all three are perfectly seamless, and you can flow from one to the other. That's my next frontier."
This article originally appeared in Playback's Fall 2016 issue.