TIFF '16: Vertical Entertainment acquires Mean Dreams
The L.A.-based company has picked up U.S. rights to Nathan Morlando's latest in advance of its TIFF premiere.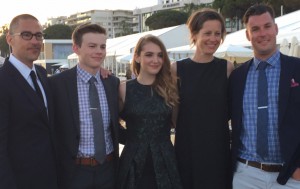 L.A.-based Vertical Entertainment has picked up U.S. rights to Nathan Morlando's Mean Dreams.
The coming-of-age drama premiered in the Cannes Film Festival Directors' Fortnight program  and will have its North American premiere tomorrow at the Toronto International Film Festival.
The film will have a 10-city U.S. theatrical run in the first quarter of 2017.
TIFF Rising Star Sophie Nélisse (Monsier Lazhar) leads the film as a young girl who runs away from an abusive home after her friend (Josh Wiggins) steals a bag of drug money from her corrupt police-officer father (Bill Paxton).
Mean Dreams was written by Kevin Coughlin and Ryan Grassby. The film is produced by William Woods of Toronto's Woods Entertainment and Allison Black of Euclid 431, and executive produced by Rob McGillivray, Patrice Theroux, Jonathan Bronfman, André Bharti, Ben Stranahan, Tom Spriggs and Mark Gingras.
Earlier this year, French distributor LaBelle Company acquired French distribution rights to the film. In Canada the film is being distributed by Elevation Pictures.
The U.S. sale was negotiated by Rich Goldberg and Peter Jarowey at Vertical, and UTA Independent Film Group on behalf of the filmmakers.