In Brief: QFTC names new national commissioner, Deluxe adds Foster
The Quebec Film and Television Council has appointed Chanelle Routhier (pictured) as its national commissioner, Steve Foster joins Deluxe TO, plus more news.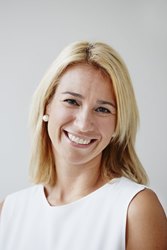 QFTC appoints Chanelle Routhier
The Quebec Film and Television Council has appointed Chanelle Routhier as its new national commissioner. Routhier previously served as manager, sales and market development at the NFB, where she was in charge of worldwide distribution in the U.S., Europe and Japan. In her new role, Routhier will focus on national and international business development for the Quebec industry. The QFTC also recently appointed Ariane Dagenais-Plante as production services coordinator.
CMF and Wallonia renew fund
The Canada Media Fund and Wallimage, a Wallonia, Belgium audiovisual content development fund, have renewed their incentive for interactive digital media. The Canada – Wallonia Digital Media Incentive for Multiplatform Projects' budget is $600,000, with each partner investing half the total amount. The incentive is now open and accepting applications for digital interactive projects. Projects must explore a transmedia approach to content production, be innovative or experimental, and be developed on appropriate platforms.
Steve Foster joins Deluxe TO
Deluxe Entertainment has added sound engineer Steve Foster to its Toronto office as its senior re-recording mixer. A 25-year veteran of the sound industry, Foster joins Deluxe TO from Technicolor Toronto. In his first project with Deluxe, Foster will work on the second season of Syfy series The Expanse. Foster's credits include Netflix series Narcos, NBC's Hannibal and feature-length concert film Rolling Stones: At the Max. As well, Deluxe TO has added a Dolby Atmos mixing theater that will serve episodic TV production at its Toronto office.
Production set to begin on The Lakehouse 
Production is set to begin on Nicola Sammeroff and Jon E. Cohen's The Lakehouse. The film, which was picked up by Raven Banner's Northern Banner Releasing in July, will begin filming in Gravenhurst, ON on Monday (Sept. 12). The Lakehouse, which is produced by Sammeroff and Cohen's Savoy Entertainment, follows three couples over the course of a swingers weekend. It stars Mia Kirshner (Lost Girl), Erin Karpluk (Being Erica), Jonas Chernick (How to Plan an Orgy in a Small Town), Randal Edwards (Entanglement), Michael Xavier (Bitten) and Erin Agostino (The Kennedys after Camelot).
Programming announced for VIFF's "Next" stream
The Vancouver International Film Festival's "Next" programming stream, presented with Creative B.C., has announced its lineup, including talks with  Nirvanna the Band the Show's Jay McCarrol and Matt Johnson, and Orphan Black's Tatiana Maslany. Other events include a screening of the first episode of Vancouver-shot Van Helsing, and a talk with its executive producer Simon Davis Barry, as well as a workshop for young filmmakers on how to scale up their productions.
Cameras roll on Early Release
Filming has begun in Montreal on Incendo's latest thriller, Early Release. The film, which is directed by John L'Écuyer, stars Kelli Williams (The Practice), Justin Mader (The Unauthorized Full House Story), Sarain Boylan (Bon Cop Bad Cop) and Niamh Wilson (Degrassi : The Next Generation). The film follows Taylor Bennett, a suburban mom who was sentenced to three years in prison for drug possession and a DUI. After being released (early), she works to rehabilitate her image and gain back the trust of her family.
Jovanka Vuckovic boards Clique's Riot Girls
Clique Pictures has attached director Jovanka Vuckovic to helm its latest feature, Riot Girls. The film, which is currently in the casting phase, is written by Katherine Collins and tells the story of a teenage girl who is forced to act when her brother is captured and threatened with execution. Vuckovic, who directed the 2012 short The Captured Bird, also recently wrote and directed a segment for the all-female horror anthology XX. Vuckovic is represented by Eric Feig Entertainment & Media Law.