The 2016 New Establishment: New Metric Media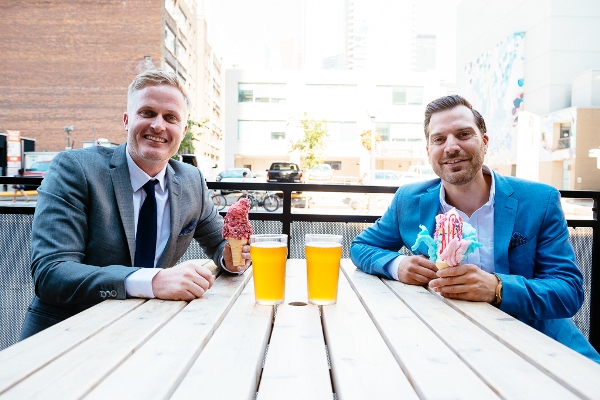 From Playback magazine: With an instinct for content that resonates with fans and programmers alike, Patrick O'Sullivan and Mark Montefiore have quickly built an impressive slate.
The New Establishment is an annual feature in Playback's fall issue, celebrating the next generation of established independent Canadian production companies (the 5 to Watch, to follow next week, focuses on up-and-coming talent). Led by innovative, results-driven execs, these companies were selected to illustrate the success that can be had when skill, hard work and yes, luck, combine to make greenlights, MGs and app-store launches materialize, again and again.
In just three short years, Patrick O'Sullivan and Mark Montefiore have turned their company vision, "Make Cool Stuff," into a viable, proven business model.
The duo first worked together at the CBC in mid-Oughts Toronto, where O'Sullivan was executive in charge of development, comedy, and Montefiore was pitching and producing projects. "With every decision, even though it may have seemed like a good one, he always said, 'Let's add more value,'" O'Sullivan recalls of his early days working with Montefiore. "And that's what I wanted to do as well."
The two worked so well together, they decided to band together and strike out on their own, launching New Metric Media in 2013. By November of that year, they'd secured their first deal: developing Jared Keeso's web series Letterkenny into a TV series with Bell Media.
"There were a lot of big companies bidding on Letterkenny," says Montefiore. And while those companies may have brought more money to the table – "we certainly didn't bring any," he jokes – New Metric brought a lot of heart. "We really connected [with Keeso], because he saw that we were guys who would enjoy that type of show," says O'Sullivan.

Letterkenny was just the beginning. In October 2014, the duo signed a two-year first-look production deal with DHX Media. Steven DeNure, president and COO of DHX, had worked with Montefiore in the past, including as an executive producer on Cas & Dylan, which Montefiore had produced. When Montefiore told DeNure of the deal, he asked if they needed any help. "I didn't even realize we needed help at the time, but we did," says Montefiore.
The deal provided the young production company with pivotal back-office resources, legal support and operating funds – as well as indispensable mentorship – all of which helped Montefiore and O'Sullivan focus on the company's creative output. Out of the deal, New Metric has produced Letterkenny, What Would Sal Do? and Bad Blood: The Vito Rizzuto Story, which is slated to air on City and FX in 2017.
Nataline Rodrigues, director of original programming at Rogers Media, says New Metric's energy and commitment to delivering high-quality content makes them ideal to work with. "With Bad Blood, they came to us having optioned the rights to a book about the Mafia at a time when we were looking to do a limited event drama. That, in addition to being able to attract the right calibre of talent and partners to the project, made it an attractive offering for us," she says.
Now, with multiple projects in production, the company is in the enviable position of having to manage this growth and plan for more. The growth, while quick, hasn't always been easy. Its second major broadcaster deal, for half-hour comedy What Would Sal Do?, fell apart this spring when its licensee, Super Channel, filed for creditor protection and released the licenceses for much of its original programming. 
The move left Montefiore and O'Sullivan in shock and their balance sheet bleeding red ink. However, Montefiore says, the company's small size and low overhead meant they were able to weather the blow in the months that followed. "If that had happened a year from now or two years from now when we had hired five, six other full-time staff…that would be a tough position to be in," he says.
While their experience with Super Channel was a "big scare," the company rebounded. Bell Media acquired What Would Sal Do? for pay channels HBO Canada and TMN, with the series slated to air in early 2017.
While O'Sullivan admits that, by staying small, the duo can take chances on projects they love without having "to do things just to keep the lights on," the company is, of course, looking to grow – especially outside of Canada's borders. "Our goal is to find projects that do speak on an international level," stresses Montefiore.
New Metric recently acquired the English-language television adaptation rights to Body, the Silver Bear winner for best director at the 2015 Berlinale, which they're currently developing. They're also adapting Elisabeth de Mariaffi's novel The Devil You Know for television, with Orphan Black writer Karen Walton attached to pen the script, and developing a show with CBC, based on the stand-up of Dave Merheje and Ali Hassan, called We Ain't Terrorists.
The secret to choosing their diverse slate of projects, Montefiore and O'Sullivan say, is being open to stories that come from anywhere. "Everywhere your head turns, there's another story to be told," says Montefiore.
This article originally appeared in Playback's Fall 2016 issue.