Cameras rolling on The Beaverton
The 13-episode first season of the show will premiere on The Comedy Network in November.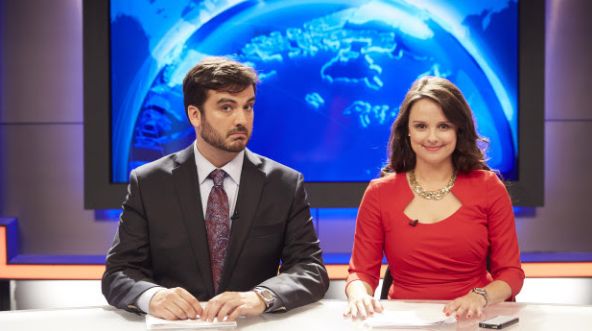 Filming is underway in Toronto and Hamilton, ON on half-hour comedy The Beaverton, with 13 episodes set to debut on The Comedy Network in November.
The series, produced by Pier 21 Films in association with The Comedy Network, is based on the satirical website Beaverton.com, which features fake or fabricated news stories.
The comedy is created by website co-founder Luke Gordon Field and Jeff Detsky (Call me Fitz, Seed) alongside the website's senior editors Jacob Duarte Spiel and Alexander Saxton. Henry Sarwer-Foner (The Rick Mercer Report) and Shelagh O'Brien (Just For Laughs) are directing the series, while Pier 21 founder Laszlo Barna and head of development Melissa Williamson serve as executive producers.
Starting on Sept. 24, the series, which stars Canadian comedians Emma Hunter and Miguel Rivas as news anchors, will be filmed in front of live studio audiences in Toronto. Field production is currently in progress.
The pilot episode for the series went to camera last summer, after Pier 21 successfully pitched the project to Bell Media. The series was also among 39 projects to receive financing from the Bell Fund in June.
The Beaverton is produced with the participation of the CMF and the Canadian Film or Video Production Tax Credit.