By Regan Reid and Jordan Pinto
Making a first film is no easy feat. Cobbling together financing, finding the right actors, crews and locations, not to mention directing the project, can all seem impossible tasks. Perhaps what's most daunting about the endeavour, however, is you only have one shot to get it right. The six Canadian filmmakers featured in TIFF's Discovery Program did just that. The program features "the future of world cinema," as the festival describes it and in the first of a two-part feature, Playback looks at three of the six Canadian films and filmmakers poised to change the game with their breakout films, and how they made it to one of the world's main film launchpads, TIFF.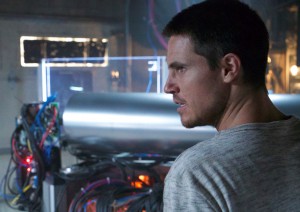 ARQ (U.S./Canada)
Director: Tony Elliott

OVERVIEW:
Tony Elliott is a Canadian TV writer and filmmaker who broke into the field with his short film, Entangled, which premiered at TIFF in 2014. ARQ is a sci-fi story set in a world where corporations battle nations for the last of the world's energy supplies. It stars Robbie Amell and Rachael Taylor.
Producers: Mason Novick, John Finemore, Kyle Franke
Executive Producers: James Hoppe, Nick Spicer, Matt Levin, Ian Bricke
Co-Producers: Elizabeth Grave, Michelle Knudsen, Mary Anne Waterhouse
DEVELOPMENT:
TE: I first wrote the draft in 2008. Eventually, I optioned it with a director friend of mine and he had it for about five years, trying to finance it. But we just couldn't get it off the ground. The timing was pretty serendipitous though, because at the same time as he was letting go of the project, I had just finished Entangled, a short sci-fi film that turned out to be a great calling card. I met with my now-producer [Mason Novick] at TIFF 2014. He said, "I just read your script. I love it, let's make the movie."
FINANCING:
TE: We had paired up with Blue Ice Productions and were going to go for that traditional model – pre-sales, larger budget, bigger actor. But that didn't last very long because I got a call one day and Mason said, 'Netflix read your script and would love to chat with you.' We talked for about half an hour over the phone and about a week later [Netflix agreed to fully finance the US$2 million film.] That changed everything. Then it was all systems go.
MN: [Netflix has] been acquiring a lot of content, buying movies at festivals and so I think they said, "Instead of finding these projects after everyone sees them and there's a bidding war for it, we'll pay for it first and know that we have it and control it."
PRODUCTION:
TE: Netflix came on board in October 2015. We started casting pretty much right away. We found our wonderful actors by the end of December and prep started in January. We shot for 19 days in February in Etobicoke, ON and we've been editing madly since to make the TIFF deadline.
FESTIVAL STRATEGY:
TE: TIFF was always the goal. We knew that Netflix was very encouraging of a festival premiere and ideally in Toronto. I'm from Toronto, we shot in Toronto, it made mathematical sense on all fronts. So [we said], "Let's do what we can, make the best film we can and we will meet this deadline for TIFF." Of course, we fell a little short. We didn't have all of our VFX shots, but fortunately TIFF was able to see through the rough spots.
WHAT'S NEXT:
TE: Netflix is going to launch the film globally. [In theatres] the film would not be able to compete with the $90 million blockbusters, it's just a much smaller scope. It's a high-concept sci-fi, an entertaining romp, but it's a low budget film. There's no way around it. Publicity would quadruple the budget. Also, it's going to be in [around] 190 countries. Tom Cruise gets that, not me! But because of Netflix and the way things are going with streaming, the film is getting that too.
By Regan Reid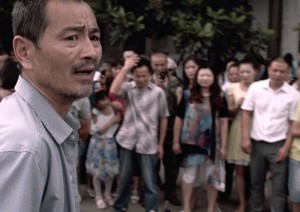 Old Stone ("Lao Shi") (China/Canada)
Director: Johnny Ma
Producers: Wu Xianjian, Chi-an Lin, Jing Wang, Sarah Stallard
Executive producer: Nai An
OVERVIEW: Johnny Ma is a Shanghai-born, Vancouver-based filmmaker. He previously presented two short films at TIFF: The Genius from Quintino (2013) and A Grand Canal (2014). Old Stone, a Chinese-language film, begins when a drunken passenger causes cab driver Lao Shi to swerve and hit a motorcyclist. When Lao Shi stops to help the injured man, his compassion has far-reaching consequences.
DEVELOPMENT:
JM: I pitched my initial project [Ten Thousand Happiness, winner of Telefilm Canada PITCH THIS! In 2014] to a group of Chinese investors, who rejected it. I originally thought I could expect something like $1 to $1.5 million for a coproduction structure, and I found out that because of the rates Chinese actors are charging these days, it was going to blow up to about $2.5 to $3 million, so I had to restructure. I had a project that I'd written a treatment version of for the [U.S. market]. I basically reformatted that project for China, wrote it for a smaller budget, and went back and pitched the same investors based on what I knew they were looking for.
FINANCING:
The [$330,000] film is financed 80% through Chinese private investment and the rest through my company [Maktub Films] on the post-production side, which took place in New York.
PRODUCTION:
We shot the film over 28 days in June and July 2015 in a town about two hours outside of Shanghai. Making an independent feature film in China is probably 10 times harder than in North America. Here, the things eating up your budget are food, travel, equipment, whereas in China it's much different. Food, locations, equipment, travel and living expenses are very cheap, but the things that are very expensive are the actor and crew fees. A third-tier actor quoted us basically half our budget as his fee. By not choosing a recognizable Chinese actor we knew this wouldn't be commercially viable in the theatrical market. We had to live with that.
FESTIVAL STRATEGY:
Sundance, Berlin and TIFF were our first choices, but we couldn't get it ready in time for Sundance. Through a connection of the film's executive producer Nai An, we were able to get a copy of the film to European festival advisor Jacob Wong, and it later premiered in Berlin in the Forum section.
WHAT'S NEXT:
We have secured distribution in Canada through Films We Like and in the U.S. through Zeitgeist Films. In terms of international, Asian Shadows [a sales agent based out of Paris and Beijing] is handling distribution.
By Jordan Pinto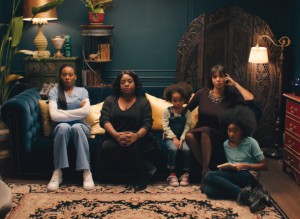 Jean of the Joneses (Canada)
Director: Stella Meghie
Producers: Stella Meghie, Amos Adetuyi, Floyd Kane
Executive Producers: Elizabeth Cullen, Sean Dwyer
OVERVIEW: Director Stella Meghie is a Tribeca Film Institute fellow and Berlinale Talents alumna. Her first feature, Jean of the Joneses, world-premiered at SXSW and revolves around the women of the Jones family, whose lives are interrupted when an estranged grandfather dies on their doorstep. It stars Taylour Paige, Erica Ash and Sherri Shepherd.
DEVELOPMENT:
SM: I was doing my master's of screenwriting [at the University of Westminster] and that's when I started outlining and writing Jean and finished it around 2010 when I was graduating from school. I ended up over the years being able to take it through some fellowship programs: Tribeca All Access, Berlin Talent Campus and Nantucket Screenwriters Colony. Every time I did one of these fellowships I polished it more and met more people.
FINANCING:
SM: The Canadian Film Centre was a huge support on the project. After I did the Canadian Film Centre/Tribeca Film Institute partnership and did the last round of development, we went into Telefilm for production financing. Dan Lyon over at Telefilm believed in the project. He'd been aware of the project for a few years and decided to come on and John Bain at Toronto-based Search Engine signed on for Canadian distribution. Then, U.S. TV network TV One, came on as well.
AA: The budget is just over a million dollars. Certainly there was some personal risk involved too. Producers often do get involved personally to make sure the financing is there to complete the film the way it needs to be completed. With a second mortgage on the line, there were certainly some conversations with my wife – who is amazing. You want to talk about Canadian filmmaking, that is part of it. When the show needs [help] you have to step up, there's no choice. It's a passion.
PRODUCTION:
SM: We shot 15 days in Toronto and two days in New York. Probably the biggest obstacle was the time crunch. We didn't have a huge budget, so we only had 17 days to shoot 90 pages. It was a very crammed schedule. I was lucky that I had a really great cast that were super professional and we were able to get through a lot in the little bit of time we had.
FK: When you have $1.1 million to make a movie, that in and of itself is a spectacular challenge. Not only that, we were casting fairly recognizable actors in roles. Sherri Shepherd who is in people's homes every day via The View, trying to convince her to come on board a low budget indie without having all the accoutrements that she might typically have. It's tough stuff. Trying to make an independent film is not for the faint-hearted.
FESTIVAL STRATEGY:
SM: My editor, Aren Hansen, and I had probably been editing for two weeks when I decided to reach out to SXSW. Their deadline had passed, but a lot of festivals will consider things up until the final program is solid, so I decided to reach ask. They said, "If you can get it in by the end of the week, we'll take it." It was right before Christmas [but] we said, "Let's do it." We took a knife to it and tried to be as honest as we could and sent in a cut with temp music and found out around three weeks later that we'd gotten into SXSW. I was really shocked and surprised. It was definitely very tight to get into South By and then it was very tight in post-production to get the original music, colour correction and everything done in time. [As for the TIFF premiere], it's one of the best festivals in the world so the majority of films there are world premieres. I feel very good that they decided that it was an important film to show to represent Canada for the festival.
FK: Seeing an American audience responding to a Canadian-made film [at SXSW], that was great. But the TIFF [announcement] is way sweeter. For any producer, filmmaker, TIFF is the dream. You want to be in that club.
WHAT'S NEXT:
SM: Search Engine is going to be distributing it in Canada theatrically and in the U.S. TV One is going to be airing it October 23.
FK: TIFF is all about the international aspect. The hill that we have to climb is try to sell [a film] with essentially all black female leads to foreign buyers.
AA: As universal as this story is – clearly it's getting attention and people are liking it – in the foreign market, since it has a black cast, it does make it a difficult hill to get over unfortunately still today. You wouldn't think so, but it does.
By Regan Reid
This article originally appeared in Playback magazine's Fall 2016 issue