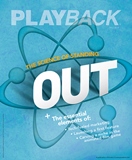 Note from the editor
I've always considered myself lucky to work in this industry. Not just because media and entertainment is in the midst of seismic change, which is challenging for business but endlessly fascinating for those covering it, but because of the people in it.
As new Academy of Canadian Cinema and Television CEO Beth Janson mentioned when we spoke this summer for an article in this issue, the Canadian entertainment industry is a passionate and often generous one. It gets in endless arguments about whether or not it should be fixed and how to fix it, because most people in it care a lot about it
How many other professions allow one to feel as though they are genuinely contributing to national pride – and the fabric of the collective consciousness – at the same time as job creation and GDP? It's a cool intersection at which to be located.
The last six months have given me a unique and intimate view into another side of the industry. My husband and I are expecting our first child, due to enter the world on Sept. 15 (smack dab in the middle of TIFF: because, of course). While I'll be sad to miss the annual networking and film melee that takes over my life every September (even the concierge in my building asked if I would be doing the film festival this year) the good news is, I may get to experience the festival consumer-side and catch one of those alluring 9 a.m. films. (Feel free to take my place at the 10 p.m. parties.)
Jokes aside, my pregnancy has also allowed me to connect with people on an entirely different level, and that has been a true privilege. How many other women get to casually discuss the ins and outs of mat leaves and working parenting with some of the brightest CEOs and executives in their business, many of whom also happen to be women? It's like living in a chapter of Lean In. The common theme has been that having a family life and a great career is not only possible, but very common. And in the craziness of juggling pregnancy and a chaotic job, it's been hugely reassuring and I thank all of you for your advice and well-wishes.
The other thing that often comes up about a mat leave – usually from people who don't have children – is, "think of all the Netflix you'll get to watch!" Which is a nice idea but, I suspect, not entirely accurate. Firstly, I'll state for the record that I don't have Netflix. I get all the TV I can possibly fit into my life from my giant, expensive (but largely satisfying) cable package and a healthy iTunes account. It covers all personal and professional bases and even lets me see ads, which I know everyone hates but are: A) the lifeblood of our industry, and B) part of my remit at Brunico Communications. Plus, there's nothing like an unexpected visit with Scott MacGilivray and a cottage with a carpenter ant problem that's not mine.
I'm as lazy as the next person when it comes to making choices after a long day, and I completely appreciate the value of a Netflix-style algorithm to make them for me. But as our media world gets more algorithm-ified every day, and our industry wonders how we can better take advantage of it, my rebellion against the system grows. Don't tell me what I like based on the last two things I looked at! (I was tired, okay?)
I like discovering things. I like finding weird new pilots to watch on iTunes. I like reading articles about city fountains in the Globe and Mail or an essay about the failings of the Toronto Police service in the Toronto Star. I like channel surfing.
So as we head down a road on which we're told what we're going to like based on things we already did, let's not forget the value of tried-and-true, old-fashioned marketing, which can use all the new-fashioned things it wants, but boils down to targeting an audience and effectively reaching it. I see this forgotten, downplayed or disregarded all the time. It deserves just as much care, effort and thought as the project it's promoting, no matter how big or small. If whatever partner you're working with isn't cutting it, do it yourself to the best of your ability. The tools are out there: take the time to really learn how to use them and you'll already be way ahead of the pack.
How does this all relate to the new issue of Playback? Well, we've wrapped the issue in the theme of standing out, which is something every Canadian content creator (one assumes) hopes to do.  You'll notice that almost all of the content can be tied back to this theme. We hope you enjoy the five companies selected for our New Establishment this year, each of which is building a unique and successful approach to their business. And our 5 to Watch this year, another eclectic bunch, represents a group of people seizing the opportunities presented by both traditional Canadian production, which is arguably the strongest it's ever been, and in new media. And I don't think many envy the brave prodcos forging a path in wide-release animated feature film: that's one of entertainment's fiercest battlefields.
Links to content will be posted here as they are added to the site. Read the digital version of the magazine here.
Programming profile: Indie film distribs: With festival season underway, Playback speaks with three indie distribution execs making shopping lists for the markets. Read more here.
The Discoverers: First-time Canadian filmmakers break down their road to TIFF and what lies ahead. Read part one here, and part two here.
Playback New Establishment: The New Establishment is an annual feature in Playback's fall issue, celebrating the next generation of established independent Canadian production companies. 

Playback 5 to Watch: Five Canadian entertainment industry talents whose careers are on the rise. Read more here.
Let's science the shit out of this: Out-of-the-box approaches to getting (entertainment) products in front of the right people. Read more here.
The indie animated features battleground: Three Canadian indies that have, or are about to, take the leap into animated family features discuss their strategies. Read more here.
Retrospective: DHX Media: In 10 years, the kids content powerhouse has grown from being Canada's East Coast entertainment outpost to a global producer, distributor and broadcaster. Read more here. 
Playback's 2016 Canadian Hall of Fame: Cyril Drabinsky: The executive who steered Deluxe Entertainment through a wholesale digital transition is plotting his next moves. Read more here.