Showcase sets launch date for Travelers
The series, produced by Toronto's Peacock Alley Entertainment, will air exclusively on Showcase in Canada and on Netflix internationally.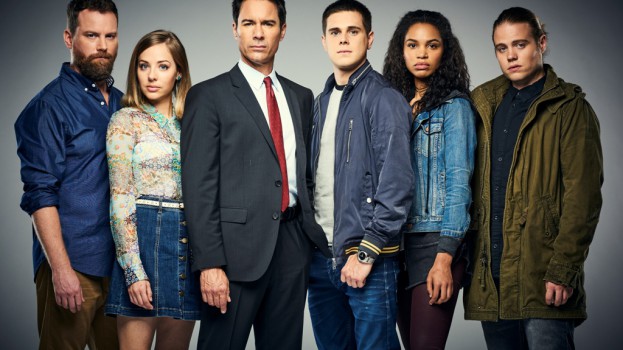 Corus specialty channel Showcase has announced the premiere dates for its original series Travelers, with the show set to debut on Monday, Oct. 17.
Produced by Toronto's Peacock Alley Entertainment, in association with Showcase and Netflix, the series went to camera in Vancouver this past April.
The show will air in the 9 p.m. timeslot on Showcase. Outside of Canada, Travelers will stream internationally on Netflix later this year.
The series is written, created and produced by Brad Wright, who co-created the Stargate franchise, and stars Eric McCormack, Jared Abrahamson, Nesta Cooper, J. Alex Brinson, Reilly Dolman, Patrick Gilmore, Arnold Pinnock, Dylan Playfair, MacKenzie Porter, and Ian Tracey.
Showcase also announced the premiere dates for two U.S. series: futuristic thriller Incorporated and adventure series Supergirl.
Incorporated is produced by Matt Damon, Ben Affleck and Jennifer Todd's prodco Pearl Street Films. Production on the series began at Toronto's Cinespace Film Studios in June, with filming scheduled to wrap in mid September. The eight-part show debuts on Showcase on Wednesday, Nov. 30 at 10 p.m.
Season two of Supergirl will premiere on Showcase on Monday Oct. 10 at 8 p.m. The second season of the show was filmed in Vancouver, after CW picked up the series in May. The first season of the show aired on CBS.