CBC commissions drama series Bellevue
The eight-parter goes to camera next month in Montreal. (Series lead Anna Paquin pictured.)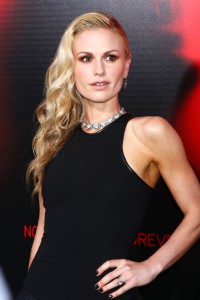 CBC has commissioned a new one-hour series, Bellevue, which goes to camera next month in Montreal.
The eight-part drama, due to air on CBC in winter 2017, is produced by Muse Entertainment (The Kennedys) and Back Alley Film Productions (Durham County) and is set to begin filming on Sept. 19.
The series, which will star Anna Paquin (True Blood) in the lead role, is created CFC Writers' Lab graduate Jane Maggs and Back Alley co-founder Adrienne Mitchell. When a transgender teen goes missing in a small blue-collar town, detective Annie Ryder (Paquin) is forced to cast doubt on people she has known her entire life, as she tries to unravel the case.
Maggs is the senior writer on the series and executive produces alongside Back Alley co-founder Janis Lundman, Muse CEO Michael Prupas, Saving Hope and Rookie Blue co-creator Morwyn Brebner, Muse's SVP of development and distribution Jesse Prupas and Mitchell. Maggs and Mitchell will serve as co-showrunners on the series.
Also announced to star alongside Paquin are Allen Leech (Downton Abbey, The Imitation Game) and Shawn Doyle (House of Cards, Frontier). This is the second time Paquin has been announced to star in a CBC series in 2016, after the Canadian-born actress was tapped for a role in Sarah Polley's Alias Grace.
Global distribution for the series is being handled by Muse Distribution International.
Image: Shutterstock