UFE and Breakthrough sign distribution deal
United Front Entertainment has acquired the Canadian digital and home entertainment rights to seven horror films, including Bite (pictured).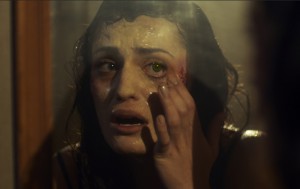 Toronto-based distributor United Front Entertainment and Breakthrough Entertainment have signed a seven-picture rights deal.
UFE has acquired the Canadian and digital home entertainment rights to seven features, including Bite, which was produced through Black Fawn and Breakthrough's eight-picture deal.
Bite, which was released digitally on Aug. 2, will have its DVD release on Sept. 6. In March, L.A.'s Shout Factory! picked up the U.S. distribution rights to the film.
Additional Black Fawn films included in the deal are Bed of the Dead, Antisocial 2 and The Sublet.
UFE has also acquired Haunted House on Kirby Road, produced by 5'7 Films, Farhope Tower from Wango Films and Save Yourself, produced by Post City Films.
The rights deal was negotiated by Nat Abraham, president of distribution at Breakthrough Entertainment, along with Susan Curran and Rob Herholz, co-founders of United Front.