In Brief: Canadians kids shows earn int'l awards
Canadian kids shows shine at the TCA and Cablefax awards and other news briefs of the week.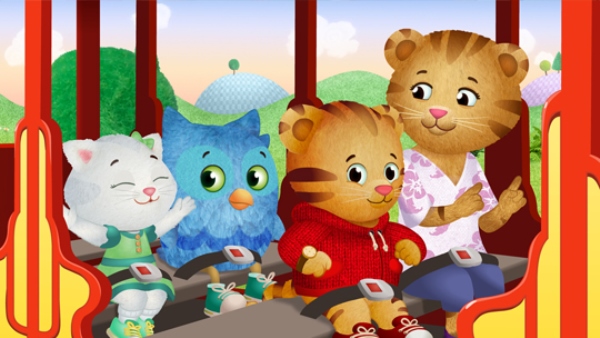 TCA awards Daniel Tiger's Neighbourhood
Daniel Tiger's Neighbourhood won the Outstanding Achievement in Youth Programming at the Television Critics Association 32nd Annual TCA Awards in Beverly Hills on Aug. 6. The preschool series is coproduced by Toronto's 9 Story Media Group, The Fred Rogers Company and New York-based Out of the Blue. Daniel Tiger airs on PBS in the U.S. and CBC in Canada. The series was also recently sold to Cartoonito UK.
Counterfeit Cat wins Cablefax award
Counterfeit Cat has won the Cablefax Program Awards for Best Children's Series. The U.K./Canada coproduction is produced by Toronto's Tricon Films and Television and Bristol, U.K.-based Wildseed Kids. Pre-production on the series takes place at Wildseed with animation production handled by Vancouver's Atomic Cartoons. The series, which follows the unconventional friendship of a cat and an alien, airs on Teletoon in Canada and Disney XD in the U.S. Tricon International handles global distribution and property rights management.
Polley's Little Women adaptation gets a new writer
Sarah Polley is handing over one of the many adaptation projects she has on the go. Her script for the upcoming Little Women adaptation is being re-written by actress Greta Gerwig. The Tracking Board originally reported the news that the Frances Ha star would take over for Polley. The Stories We Tell director is currently adapting Margaret Atwood's Alias Grace as a six-part miniseries for CBC and Netflix. She's also adapting two novels for the big screen: John Green's Looking for Alaska for Paramount and David Gilbert's & Sons for RatPac Entertainment.
Bardel announces key hires
Vancouver-based animation studio Bardel Entertainment has formally announced two hires made within the last year. Lenny Brown has been tapped as business development manager within business affairs and sales, while Tina Chow joined the company as director of development and strategy last winter. Brown lands at Bardel from Toonz Entertainment, bringing with him more than a decade of industry experience. He previously held corporate development and management roles at THQ, HBO, Sony and Universal. Meanwhile, during her 15-year tenure in the animation industry, Chow has delivered more than 300 episodes of content, including Mattel's Monster High movies, Hot Wheels: Battle Force Five and Blaze and the Monster Machines. In her new role, she runs development and management of incoming content for Bardel.
NFB doc wins at Montreal fest
Katherene Vermette and Erika MacPherson's NFB doc this river won the Coup de Coeur du Jury award at the 2015 Montreal First Peoples Festival on Aug. 8. The 20-minute documentary offers an Indigenous perspective on the experience of searching for a loved one who has disappeared. The documentary was produced by Alicia Smith and executive produced by David Christensen for the NFB's North West Studio.
Lawyer Arthur Evrensel earns accolades of peers
Entertainment lawyer and founding partner of Vancouver-based law firm MEP Business Counsel, Arthur Evrensel, has been named one of Canada's leading lawyers in the 2016 edition of Best Lawyers. Evrensel, who was recognized for his work in Canadian entertainment law, was selected by a panel of his peers. In addition to his practice, Evrensel is also a member of the board of directors at Lionsgate Entertainment.
With files from Elizabeth Foster, Kidscreen