Corus sets fall premieres for YTV, Treehouse, Teletoon
Three Canadian original series are featured in the schedule, including Breakthrough Entertainment's Ride (pictured).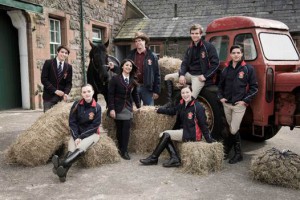 Corus Entertainment has revealed the fall schedules for YTV, Treehouse and Teletoon, with a number of Canadian series set to make a back-to-school premiere.
First up is Ride, Breakthrough Entertainment's 20 x 30-minute equestrian series, which premieres on YTV on Monday, Sept. 5 at 7 p.m. It will air nightly Monday to Thursday every week for the duration of the season. The series follows a young girl who moves to England with her father when he takes a new job at an elite equestrian boarding school.
Joining it on YTV on Sept. 5 at 7:30 p.m. is Tricked (20 x 30 minutes), which will also air nightly Monday to Thursday on the kids net. Produced by Force Four Entertainment, the street-magic series sees host Eric Leclerc going undercover to pull pranks and tricks on children and their families and friends.
And on Treehouse, Nelvana's Ranger Rob (52 x 11 minutes) premieres on Monday, Sept. 5. The show will air seven days a week at 6:25 p.m. The series follows enthusiastic hero Ranger Rob who loves to get outdoors and explore his backyard, which also happens to be an adventure park.
Acquisition programming set to roll out this fall on YTV includes The Lego Movie, which airs on Monday, Sept. 5 at 4:30 p.m., as well as The Loud House (26 x 30 minutes). The half-hour show about a boy with 10 sisters airs Monday to Friday at 4:30 p.m., starting on Sept. 6.
Returning also to Teletoon on Sept. 5 are Teen Titans Go! and Powerpuff Girls, airing on weekdays at 4:30 p.m. and 5 p.m., respectively, in addition to Alvinnn!!! and the Chipmunks, Camp Lakebottom, Rescue Bots, Be Cool Scooby-Doo!, Lego Nexo Knights and Wabbit.