Houdini and Doyle ends after one season
The Canada/U.K. coproduction has been cancelled after a 10-episode first season.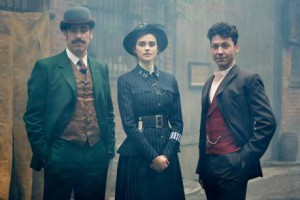 Canada/U.K. treaty coproduction Houdini & Doyle will not be back for a sophomore season.
The series, which was produced by Shaftesbury and the U.K.'s Big Talk Productions in association with Shaw Media, ITV Encore, Sony Pictures Television and Shore Z Productions, debuted on Global in Canada, ITV Encore in the U.K. and Fox in the U.S.
Eight of the show's 10 episodes were shot in the U.K. from July to November of 2015, after which the final two episodes of the first season were filmed in Toronto.
"We are very proud of Houdini & Doyle. This has been an extraordinary collaboration with multiple partners from the get go and has required all three broadcasters to pull off. Unfortunately, when one major partner does not renew, it makes it very difficult, almost impossible, to continue," said Christina Jennings, Shaftesbury's chairman and CEO and an executive producer on Houdini & Doyle, in a statement.
Although its U.S. ratings were "tepid," according to The Hollywood Reporter, Houdini & Doyle did respectable numbers in Canada following its premiere on Global on May 2.
During its 10-episode run, the show's final six episodes made it into Canada's top 30 most-watched programs. Aside from the finale episode, which drew an average audience of 924,000 (2+) when it aired on Global on Monday, July 4, the next-best viewer numbers came during the sixth episode of the series, when the show drew an average audience of 834,000 (2+). (All figures provided by Numeris.)
Houdini & Doyle is distributed internationally by Sony Pictures Television.