TIFF '16: Len Blum, Rising Stars, Talent Lab participants named
Andrew Cividino (pictured) is the 2016 Len Blum Resident, while Rising Stars include Grace Glowicki and Sophie Nelisse.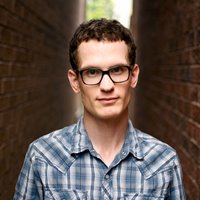 The Toronto International Film Festival has unveiled a lengthy list of Canadian actors and filmmakers who it deems are talent to watch.
The festival announced its Len Blum Resident, Rising Stars, and Talent Lab participants on Wednesday.
Sleeping Giant director Andrew Cividino has been selected as the 2016 Len Blum Resident. Now in its second year, the program, which is supported by filmmaker Ron Mann, will allow Cividino to live, work and be mentored at the TIFF Bell Lightbox for three months this year. During the residency, Cividino will work on his screenplay for We Ate the Children Last, a feature expansion of his short film, which is adapted from Yann Martel's short story. Cividino will receive script consultations from screenwriter Len Blum and mentorship from TIFF's Industry and Programming teams throughout the residency.
Last week, it was announced that Cividino also has a project in development with Rhombus Media. 
TIFF has also named the four participants in its Rising Stars program, which provides professional development and networking opportunities for actors.
This year's participants include Manitoba-native Jared Abrahamson, who stars in TIFF '16 film Hello Destroyer as well as Kathleen Hepburn's Never Steady, Never Still. Joining Abrahamson is Grace Glowicki, who won a Special Jury Prize for Outstanding Performance at Sundance in Ben Petrie's Her Friend Adam; Mylène Mackay, who plays the title role in Anne Émond's Nelly, which will world premiere at TIFF; and Sophie Nélisse, known for her work in The Book Thief and Philippe Falardeau's Oscar-nominated Monsieur Lazhar.
Lastly, TIFF has also unveiled the Talent Lab and Telefilm Canada Pitch This! participants. The Talent Lab is a five-day artistic development program led by experienced filmmakers, while the Pitch This! competition gives six teams six minutes to pitch their original feature film or doc idea to a jury of experts for a chance to win $15,000 to help develop their project.
The Canadian Talent Lab participants are Ben Petrie, Caroline Monnet, Frieda Luk, Jesse Klein, Joyce Wong, Kelton Stepanowich, Meryam Joobeur, Randall Okita, Reem Morsi and Slater Jewell-Kemker. International participants in the program are Alejandra Márquez Abella (Mexico), Aleksandra Terpinska (Poland), Anwar Boulifa (United Kingdom), Bryn Chainey (Australia), Mark Noonan (Ireland), Martín Morgenfeld (Argentina), Mateo Bendesky (Argentina), Myrsini Aristidou (Cyprus), Sofia Carrillo (Mexico) and Zamo Mkhwanazi (South Africa).
The five films chosen for the Pitch This! Competition are Matt Code and Molly McGlynn's Mary Goes Round, Sean Wainsteim and Nyla Innuksuk's Qalupalik, Spencer Estabrooks and Greg Jeffs' Sharkasaurus, Lauren Grant, Chris Ross and Lauren Corber's The Art of Being Busy, Francine Zuckerman and Karen Shaw's The Edible Woman and Rob Grant, Luke Black and Mike MacMillan's To Be Continued.