TIFF '16: The Headhunter's Calling lone Canadian gala
The first round of announcements has been made, with Headhunter's so far alone in the gala slots and copro Maudie (pictured) in special presentations.
The TIFF countdown is officially underway today, as the film festival staged its first major press conference ahead of the September event.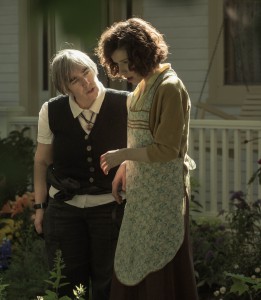 Mark Williams' The Headhunter's Calling, penned by The Judge writer Bill Dubuque, is so far the lone Canadian film to have a gala screening scheduled for the fest. The drama, which was shot in Toronto and will world-premiere at TIFF, follows a headhunter whose quest for success is threatening his family life.
Last year, Canada had a significant gala presence at the festival, with Hyena Road, Beeba Boys, Remember and Forsaken all receiving the red-carpet treatment.
Canadian director Denis Villeneuve's sci-fi film about an alien landing, Arrival will debut as a gala. A Paramount film shot in Montreal, Arrival will world-premiere in Venice ahead of TIFF, marking its Toronto debut as a Canadian premiere. Canadian director Bronwen Hughes' U.K./South Africa copro The Journey is the Destination will also have a gala for its world premiere at the festival.
The festival will open on Sept. 8 with the world premiere Antoine Fuqua's modern remake of The Magnificent Seven, which should bring its star-studded cast (Denzel Washington, Chris Pratt, Ethan Hawke, Vincent D'Onofrio, Byung-Hun Lee, Manuel Garcia-Rulfo, Martin Sensmeier, Haley Bennett, and Peter Sarsgaard) to Roy Thompson Hall's red/orange carpet. Previous Fuqua films to screen at the festival include Training Day and The Equalizer. The festival will close with the world premiere of Kelly Fremon Craig's The Edge of Seventeen on Sept. 17.
Other titles getting gala world premieres are Peter Berg's Deepwater Horizon (U.S),  JT + The Tennessee Kids by Jonathan Demme (U.S.), Rob Reiner's LBJ (U.S.), J.A. Bayona's A Monster Calls (U.S./Spain), The Rolling Stones Olé Olé Olé!: A Trip Across Latin America by Paul Dugdale (U.K.), Mira Nair's Queen of Katwe (South Africa/Uganda), ), The Secret Scripture by Jim Sheridan (Ireland), Oliver Stone's Snowden (Germany/U.S.) Strange Weather by  Katherine Dieckmann (U.S.), Lone Scherfig's Their Finest (U.K.) and Amma Asante's A United Kingdom (U.K.). and Garth Davis' Lion (Australia).
North American premieres with gala screenings include Loving from Jeff Nichols (U.S.) and Planetarium by Rebecca Zlotowski, (France/Belgium).
In the special presentations category, three Canadian copros have been announced. The U.S./China/Canada copro Birth of the Dragon, by Bourne Ultimatum screenwriter George Nolfi, will have its world premiere, as will Alan Gilsenan's Canada/Ireland copro, Unless, produced by Toronto's Sienna Films and Ireland's Subotica.
Aisling Walsh's Maudie will get its Canadian premiere at the fest. The Canada/Ireland copro, which shot in Newfoundland in October, tells the story of an arthritic Nova Scotia housekeeper who is working to become an artist. Maudie is produced by Landscape Films, Dublin's Parallel Films and Toronto's Solo Productions; Mongrel Media will distribute in Canada.