Incendo's Girls' Night Out gets underway
Filming has commenced on the Montreal prodco's third TV movie of the year. (Star Mackenzie Mauzy pictured.)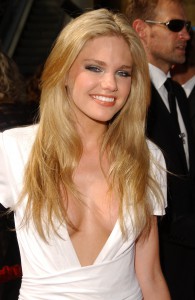 Filming has begun in Montreal on Incendo's latest MOW, Girls' Night Out.
The project, directed by Philippe Gagnon (Amber Alert), is the Montreal prodco's third TV movie of the year. Incendo's Jean Bureau and Ian Whitehead are producing the film, which is made with the financial participation of Bell Media.
Girls' Night Out stars Mackenzie Mauzy (Into the Woods, Manson's Lost Girls) as a bride-to-be whose bachelorette party is hijacked by her ex-boyfriend from college, Brandon, who kidnaps her fiancé and forces the group of girls to embark on a deadly scavenger hunt.
The film follows TV movies Serialized and FANatic, the latter of which Incendo began shooting in late May. The prodco is also currently in production on the second season of Canada-France coproduction Versailles. The series is produced by France-based Zodiak Media, project creators Capa Drama, and Incendo. The first season of the show was picked up for broadcast and SVOD distribution in the U.S. by Ovation and Netflix, respectively.
Earlier this year, Incendo hired former CBC exec Adam Feigen as its development executive. Feigen is responsible for developing Incendo's slate of MOWs and drama series.
Image: Shutterstock