Deals: United Front, TMN, Tricon
United Front Entertainment (UFE) acquires Black Fawn Films-produced horror feature Bite (pictured), plus more deals of the week.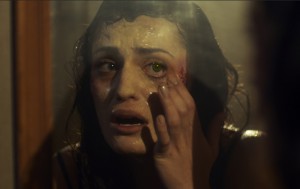 United Front Entertainment
United Front Entertainment (UFE) has picked up the Canadian digital and home entertainment rights to Black Fawn Films-produced horror feature Bite. UFE acquired the rights from Breakthrough Entertainment, which holds the worldwide distribution rights to the film as part of an eight-picture deal with Black Fawn. Bite will be released initially on VOD on Aug. 2. The film will then get a DVD and Blu-ray release on Sept. 6 through United Front Entertainment and Black Fawn Distribution. Directed by Chad Archibald (The Drownsman), Bite is about a woman who begins exhibiting insect-like behaviour after she is bitten by an insect during her bachelorette party.
The Movie Network
Bell Media's The Movie Network has announced the season six return of Canadian stand-up series Funny as Hell. The series was co-commissioned for its sixth season by streaming service Seeso and Montreal's Just For Laughs Group. Production on six 30-minute episodes will take place at the Just For Laughs festival, which runs from July 13 to Aug. 1. The new season is hosted by Canadian comedian Jon Dore and will feature Ahmed Bharoocha, Beth Stelling, Byron Bowers, Mary Lynn Rajskub and Sean Patton among others.
Tricon Films & Television
Tricon Films & Television has sold Rhombus Media comedy Sensitive Skin to satellite TV provider DirecTV Latin America. Read more here.
Cineplex
Cineplex is introducing a new theatre experience to customers in three cities later this summer, partnering with Barco Escape to bring three multi-screen cinemas to the Canadian market. Read more here.
Blue Ant Media
Blue Ant Media has secured international sales on four of its original series, including Brojects and What's For Sale? Read more here.