Cineplex partners with Barco Escape on panoramic screens
As earlier revealed, Minds Eye Entertainment, U.S.-based Bridgegate Pictures and VMI Worldwide are together producing a slate of films specifically for Barco Escape.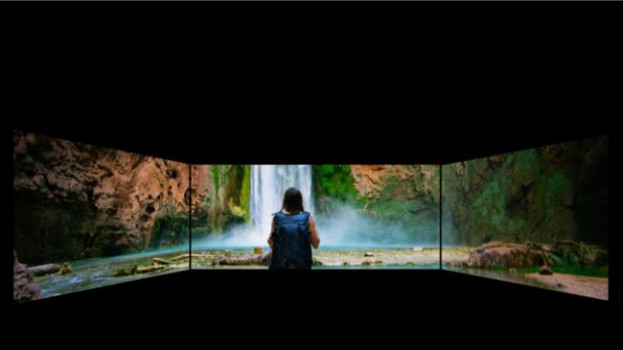 Cineplex is introducing a new theatre experience to customers in three cities later this summer, partnering with Barco Escape to bring three multi-screen cinemas to the Canadian market.
The multi-screen cinemas feature two additional side screens, which create a panoramic viewing experience for guests. The screens are being installed at Scotiabank Theatre Edmonton, Scotiabank Theatre Toronto and Scotiabank Theatre Vancouver. The new multi-screen theatres will be installed for the premiere of Star Trek Beyond on July 22.
Screenings of Star Trek Beyond at the new Barco Escape-enabled theatres will feature 20 minutes of extended movie footage designed to be shown across three screens. Tickets will be premium-priced in line with its UltraAVX theatres.
As announced in May, Canadian producer Minds Eye Entertainment in association with U.S.-based Bridgegate Pictures and VMI Worldwide, will be producing a slate of six sci-fi, action and thriller films specifically for Barco Escape. The first film, The Recall, is set to be released later this year.
Cineplex's partnership with Barco Escape is the latest in a set of announcements the entertainment company has made that moves it beyond the traditional movie experience. The company will be introducing its first 4D screens this fall in Toronto's Yonge-Dundas Square location. It has also been running eSports tournaments, and will be opening live gaming and entertainment complexes in Calgary, Edmonton and Toronto.
Image: Shutterstock