Canadian animated features to compete at OIAF
The Ottawa International Animation Festival has announced the films competing for its grand prize. (Window Horses pictured.)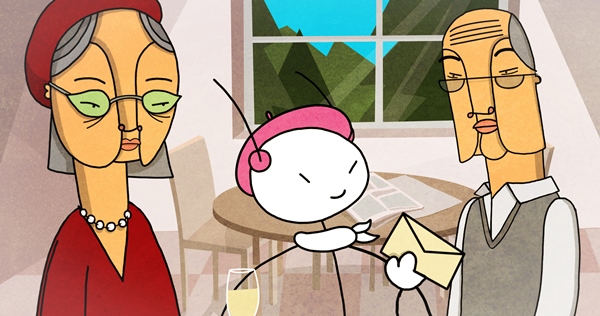 Three Canadian features will compete in the Ottawa International Animation Festival's Animated Feature Competition.
The festival announced the films competing for its grand prize on Wednesday. Among the Canadian films selected is Jean-François Laguionie's Louise En Hiver, a hand-painted animation about an elderly woman stranded in a French seaside town. Laguionie won at the 1978 festival with La Traversée de l'Atlantique à la rame.
Anne Marie Fleming's Window Horses, which follows a young Canadian poet named Rosie (voiced by Sandra Oh) who travels to a festival in Iran, will also compete. Window Horses recently screened in official competition at the Annecy International Animation Film Festival. As did Jean-François Pouliot and François Brisson's La Guerre des Tuques, which will also compete in Ottawa. La Guerre has had an impressive run since its release last November. The film broke the $3 million mark before the end of 2015, and also screened at the 2016 Sundance Film Festival. 

NUTS! from American director Penny Lane has also been selected to compete. The mixed media documentary tells the story of John Romulus Brinkley, a fraudulent medical doctor. Chris Prynoski's Nerdland (U.S.), about a failed actor and screenwriter pair determined to become famous, has also been selected.
Cafard (Belgium/France/The Netherlands) from Jan Bultheel and Psiconautas, the forgotten children (Spain) from directors Pedro Rivero and Alberto Vazquez, were also selected.
The Ottawa International Animation Festival runs Sept. 21 to 25, with films presented at the ByTowne Cinema.