In Brief: Alias Grace gets Gadon, date set for Canada in a Day
Sarah Gadon (pictured) has signed on to topline Alias Grace, Bell Media reveals the filming date for Canada in a Day, plus more news from the week.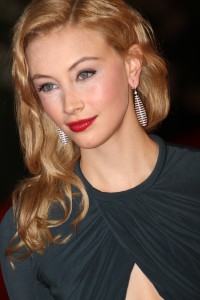 Alias Grace to star Sarah Gadon
Sarah Gadon has signed on to topline CBC and Netflix miniseries Alias Grace. The six-part drama, written and produced by Sarah Polley and Halfire Entertainment, will begin shooting in Toronto this August. Gadon will play Grace Marks in the hour-long series. Alias Grace is based on a Margaret Atwood novel of the same name that tells the story of two servants convicted of murdering their employer and his housekeeper. Gadon recently starred in Hulu's miniseries 11.22.63.
Canada in a Day
Bell Media's CTV has announced the filming day for its Canada 150 special, Canada in a Day. On Sept. 10,  2016, Canadians across the country and around the world will be asked to film the events of their day and "capture their passions, loves, fears, hopes and dreams." They will have until midnight on Oct. 22 to submit their footage. CTV announced the two-hour special, based on Ridley and Tony Scott's Life in a Day, in May. Canada in a Day will air in 2017 as part of Canada's sesquicentennial anniversary. It is produced by Screen Siren Pictures in association with CTV and directed by Trish Dolman.
Riftworld Chronicles wins SeriesFest prizes
Riftworld Chronicles, produced by First Love Films and Sienna Films, has picked up a trio of awards at the 2016 edition of SeriesFest. The series took home the Audience Award, a Virgin Produced Choice Award and the Best Actor in a Comedy prize for Tahmoh Penikett.
VIFF, Radcliffe Foundation launch Refugee Crisis Film Competition
Vancouver International Film Festival (VIFF) and the Radcliffe Foundation have partnered to launch a film competition to address the global refugee crisis. The short-film competition is to be juried by Sophie Grégoire Trudeau, Sarah McLachlan, Louise Arbour, Craig Kielburger, Ivan Fecan and Atom Egoyan. Submissions to the competition must be less than 60 seconds in length and focus on how Canadians can contribute to the ongoing refugee crisis.
CBC Docs: Short Docs calls for pitches
CBC Docs: Short Docs, the CBC's newly launched short doc platform, has issued a call for multi-platform short doc pitches from emerging Indigenous storytellers. The CBC platform is seeking short documentaries that offer reflections on modern Canadian life from the perspective of the Indigenous storyteller. CBC Docs: Short Docs is teaming up with CBC Radio Original Podcasts on the initiative to commission shorts that could be made as both a documentary and a podcast. The selected short docs will be distributed across CBC's platforms throughout 2017.
BBDO launches Flare in Toronto
BBDO is bringing Flare, an internal video production unit, to its Toronto office, hiring Dave Lembke as executive producer to lead it. Flare was first launched at London's AMVBBDO in 2013 and has since expanded to agency offices in Australia, New Zealand, South Africa, the Philippines and the U.S. The offering operates outside of the traditional broadcast production model to produce multiple pieces of creative that can be used across platforms on the same budget that might otherwise be devoted to a single TV spot. Last year, BBDO Canada retooled its internal post-production unit Ricochet as it looked to produce more low-cost, quick-turnover video content to complement its higher-end campaign work. It has done some of that work for clients including Uncle Ben's, Pepsi, FedEx and Chatr, but Dom Caruso, president and CEO of BBDO Canada, says the agency needed a unit that could own the work from beginning to end at a demanding pace, rather than relying on a network of outside producers. Flare will take on that role, with Ricochet continuing to handle post-production.
With files from Josh Kolm, strategy
 Image: Shutterstock