TIFF to showcase virtual reality projects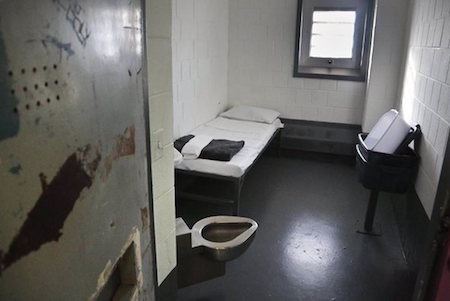 The Toronto International Film Festival will spotlight virtual reality over three days during this year's event. (Pictured: 6x9: An Immersive Experience of Solitary Confinement.)
Virtual reality is coming to the Toronto International Film Festival.
After unveiling a program of VR projects screening this summer at the festival's year-round base TIFF Bell Lightbox, organizers have extended its POP VR project to the annual festival.
Earlier this month, TIFF announced three pop-up VR programs taking place over the summer at the TIFF Bell Lightbox. The first ran from June 24 to 26 and the next one runs from July 15 to 17 and includes The Guardian's first VR experience 6×9: An Immersive Experience of Solitary Confinement (pictured), Mike Harris Design's Virtual Strangers, Felix & Paul Studios' Nomads and Nicole Del Medico's Never Forget: An Architecture of Memory.
The third pop-up runs from August 19 to 21 and focuses on experimental films. The program includes the world premiere of Sankhara, an experience inspired by T.S. Eliot's Four Quartets, as well as the world premiere of Pinnquaq's Food Fight.
Elsewhere, the Lightbox recently revealed plans for a media series entitled 2167, featuring six commissioned VR projects from Indigenous filmmakers and artists inspired by their vision of Canada in the year 2167.
TIFF runs Sept. 16 to 18
From Realscreen