Rogers Media shakes up hockey coverage
The company will air fewer regional pre-game shows as part of the new mandate, with at least 11 positions removed in order to cut costs and shift programming.
Rogers Media has shaken up its on-air coverage two years into its 12-year NHL deal.
Changes include the removal of George Stroumboulopoulos as host of Hockey Night in Canada, as well as the departure of on-air personalities Glenn Healy, P.J. Stock, Billy Jaffe, Chantal Desjardins, Corey Hirsch and Leah Hextall.
In addition to cuts in front of the camera, there have also been five full-time production jobs lost over the past few months.
Stroumboulopoulos will be replaced by Ron MacLean, who returns to the hosting post after two years away, and also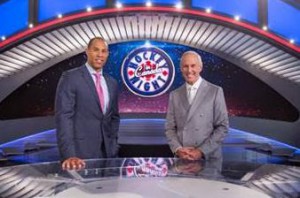 keeps his duties on Coach's Corner and Sunday night's Hometown Hockey. He will be joined by David Amber, who has been a reporter on Hockey Night in Canada for the past five years (pictured right, with MacLean).
Scott Moore, president of Sportsnet and NHL properties, Rogers Media, said the cuts are partially to do with overall restructuring at the company, and with a tepid response from Canadians to the changes it put in place two years ago.
"Two years ago we made some changes to HNIC, we were enthusiastic about the changes but they didn't resonate with hardcore fans," he said on a conference call Monday afternoon, in specific reference to the departure of George Stroumboulopoulos.
Stroumboulopoulos was brought to the Hockey Night in Canada team two years ago to attract a younger demographic to NHL coverage. When asked about whether the demographics shifted with the host changes, Moore said that the person who resonates most with younger viewers according to its market research is actually a bit older.
"The most popular person on the show with younger people is an 82-year-old man," said Moore, talking about long-time Coach's Corner host Don Cherry.
NHL coverage will be moving away from regional pre-shows next season, with local pre-game programming in Vancouver, Calgary and Edmonton replaced with a national show, confirmed Moore. He also said that staff have been given a mandate of differentiating Saturday night's coverage to make it special amongst the week's coverage.

"We will be airing the same number of games, but we need a national focus," he said. "Reality is, when you produce as many shows as we were producing that Saturday night needed to stand out more."
He also hopes that tightening the group of on-air personalities will help to build more familiarity with fans.
"The best way I can phrase it is if you tuned into Friends every week and it was always a different group then it would be tough to build the relationships," he said.
Though Rogers Media has been scrutinized since its $5.2 billion 12-year NHL rights deal began, this year has been especially tough with the lack of Canadian teams making the playoffs, or even in contention.
Moore said he hopes this year's situation is a "once in a lifetime" occurrence, adding that what drives people to sports programming is pretty simple.
"Let's be clear, what attracts audiences young and old, is winning," he said.