Amberwood's Wolf Joe in development with TVO
The concept for the series was devised by Alexander Bar, creator of Mike the Knight (pictured).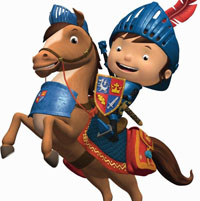 Ottawa-based Amberwood Entertainment's latest project, Wolf Joe, is in development with TVO.
The animated preschool series follows Joe, a young First Nations boy who embarks on adventures in northern Ontario with his three best friends. The concept for the series and it's setting were inspired by the Wabigoon Lake Ojibway Nation, which is located near Dryden, ON.
Wolf Joe is aimed at a three-to-five year old demographic, and sets out to teach preschoolers about Canada's indigenous culture, heritage and identity. The series was previously developed under a different name, Snow Joe, by marblemedia and APTN.
Dryden's local education director Donna Chief is being consulted during the development phase, as well as Aboriginal filmmaker Adam Garnet Jones, who wrote and directed TIFF '15 feature Fire Song.
The series is created by Alexander Bar, who also created the Canada/U.K. coproduction Mike the Knight, which airs on Treehouse TV in Canada, CBeebies and Tiny Pop in the U.K. and on Nick Jr. in the U.S.
Amberwood and TVO most recently collaborated on Shutterbugs, which was also produced and created by Big Jump Productions.