Blue Ant puts its Brojects to work in VR
The media co is dipping its toe into the virtual space with a set of new videos.
Blue Ant Media has embarked on its first virtual reality test, launching a set of videos with the stars of its Brojects series.
In the series of six digital videos the Brojects hosts, Andrew and Kevin, build specific projects that allow viewers to feel like they're part of the action, said Sam Linton, VP, original content, Blue Ant Media. Those include creating modern art pieces using a paintball gun, making a hoverboard out of a leaf blower and playing with a remote control helicopter.
The new videos were produced by Farmhouse Productions with funding from the Bell Fund and are an extension of Brojects: In the House, which is currently airing on Cottage Life.
Because virtual reality is still an emerging technology, viewers are given the option of watching the content at different levels. They can download the Brojects app and watch it in true VR mode using a Google Cardboard-compatible viewer. They can also watch the content on YouTube in 360-video mode, or simply as traditional digital videos.
Linton said the Brojects were chosen as Blue Ant's first VR test case because, with three seasons under its belt, the show already has a strong digital following.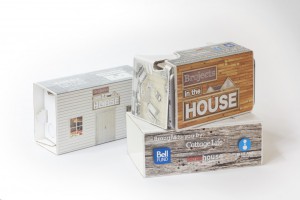 The VR videos will be promoted through an upcoming contest on Brojects' broadcaster Cottage Life, which will see the channel give away branded Brojects: In the House cardboard goggles to fans of the show online.
Blue Ant Media will be using the results and learning from its VR testing with Brojects: In the House to inform other projects in the coming months, said Linton. She said she is particularly interested in producing VR work for Love Nature and T+E, citing nature and paranormal content as two great fits for the format.
From Media in Canada