Launch date set for Secret Location's Halcyon
The 15-part scripted VR series will premiere on Syfy this fall.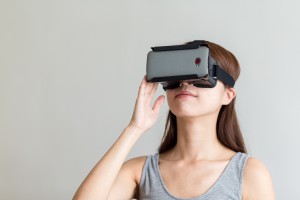 U.S. network Syfy has announced the premiere date for the Secret Location-produced scripted VR series Halcyon.
The 15-episode series, a police procedural, will debut on all of Syfy's channels and websites on Sept. 22.
The series will roll out with 10 episodes in a traditional linear format, accompanied by five episodes that are available exclusively on VR platforms (Oculus Rift and Samsung Gear VR). The VR episodes will advance the story, but short recaps of these episodes will be available for viewers who are only watching the series on linear channels.
Benjamin Arfmann (Random Stop) directs the series, which was initially announced in February when production was already underway.
Halcyon is set in the year 2040 and tells the story of Blake Creighton, who is the CEO of Halcyon, the largest VR company in the world. When Creighton is found dead, the detective team of Jules Dover (played by Lisa Marcos) and Asha (Harveen Sandhu) must try to work out if this is the world's first virtual murder.
The series was both created and produced by Secret Location, and funded in part by the Independent Production Fund and the Ontario Media Development Corporation.
Image: Shutterstock