In brief: Female Eye honours Jennings, NFB's new VR project
Shaftesbury's Christina Jennings (pictured) will receive the Female Eye Maverick award, Whistler announces its Feature Project lab participants, plus more news of the week.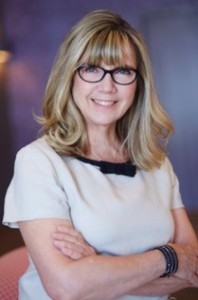 Christina Jennings to receive the Female Eye Maverick award
The Female Eye Film Festival has named Shaftesbury chairman and CEO Christina Jennings its 2016 Honorary Maverick. The Maverick Award is given to a woman who has blazed a trail in the film and television industry. Jennings founded Shaftesbury in 1987 and has since grown the company into a global producer of scripted, kids and digital content. Jennings will be presented with the Female Eye Maverick Award and Best in the Biz Tribute at 10 a.m. on June 17 at The Theatre Centre in Toronto.
Awesome Media developing Surface Tension for TV
Awesome Media & Entertainment has optioned the media rights to Jay Gunn's graphic novel Surface Tension, which the London, UK-based producer is developing for television. Published by Titan Comics, the graphic novels take place one year after the majority of humanity walked into the oceans and drowned.  Awesome is owned by writer-producer Jeff Norton and veteran producer and TV exec Peter Sussman. Sussman joined Awesome in 2015 as a shareholder and chairman and has since shifted the company's focus to developing and co-producing for TV.
Whistler Film Festival announces Feature Project Lab 
Six producers have been chosen to participate in the Whistler Film Festival's Feature Project Lab, presented in association with Telefilm Canada. From June 19 to 24, the producers will work on project development with advisors, followed by four months of ongoing feedback. Then they'll participate in a three-day follow up, pitch boot camp and market meetings during the Whistler Film Festival at the end of November. The six producers and projects for this year's lab are: Joe Balass, Compass Productions, with drama Calorie; Jon Ornoy, Animal Mother Films, with dramedy Comedienne; Harry Cherniak, Inflo Films, with drama Little Kings; Jessica Adams, JA Productions, with romantic drama My Heart is in my Head; Jeremny Torrie, High Definition Pictures, with noir Old Magic; and  Sara McIntyre, Kiss Dust Pictures, with dark comedy The Last Six. 

Peregrym, Bateman win honorary Golden Maple prizes
Actress Missy Peregrym and online celebrity Nick Bateman are to be honoured at the upcoming Golden Maple Awards with the Maple of Excellence prize. The awards, to be presented at a ceremony at the SLS Hotel in Beverly Hills on July 1, recognize outstanding contributions by those representing Canada in the U.S. Peregrym has starred in shows such as Rookie Blue, which aired for six seasons on ABC in the U.S., as well as Heroes, Reaper, The Chris Isaak Show and Dark Angel. Bateman meanwhile has starred in indie film Hobo with a Shotgun. The actor, martial artist and former model has more than five million followers on Instagram.
UK's National Theatre and the NFB partner on VR project
The London, U.K.-based National Theatre has announced the establishment of the Immersive Storytelling Studio, which will commission new virtual reality works and 360 films, and examine how the National can use these technologies to better tell stories. In the fall, the Storytelling Studio will collaborate with the National Film Board of Canada on a three-week VR research and development lab.  Theatre artists and creatives from both the U.K. and Canada will partner to develop new works combining creative documentary, theatre and VR production.
Rob Heydon Productions options Prey book series
Rob Heydon Productions has optioned the Prey book series from New York Times best-selling author Ken Goddard. The Toronto-based prodco is developing the books for a procedural crime series for TV.  The books follow Harry Lightstone, a federal wildlife agent who investigates and tracks criminals involved in the illegal wildlife trade. Rob Heydon Productions is also in development on an adaptation of the Last Rituals from The Thora Chronicles book series for RUV in Iceland, Scanbox in Scandinavia, Telemuchen for Germany and international.
dotstudioPRO launches into the app market
Playback Innovator to Watch dotstudioPro has expanded into the app market. The Canadian-U.S. tech company, which  developed a platform that allows creators to launch and monetize content across digital distribution outlets, announced that its now delivered specialized apps for clients. Those clients include Fubu TV (iOS, Android, AppleTV), Film Festival Flix (Roku), Behind the Velvet Rope (AppleTV) and mySpotlightTV (iOS, Android, AppleTV). "It's for filmmakers that we were originally inspired to create our platform and now it's for our content network partners that we are hearing their needs and evolving with them," said CEO/CTO Joe Pascual in a statement.
50° North Productions' new date
Atlanta-based UP has greenlit an original scripted series from 50° North Productions, the newly launched joint venture between Vancouver Film Studios and L.A.-based EveryWhere Studios. Date My Dad is a 10-episode family dramedy that follows a single dad raising three teenage daughters. The show is executive produced by 50° North's Sacha McLean, Jason McLean and David McLean, along with EveryWhere Studios' Dan Angel, Tom Mazza and David Calvert Jones. Date My Dad is created, written and executive produced by Nina Colman. Charles Lyall serves as producer.
People moves at Shaftesbury
Shaftesbury has promoted Judy Lung to director of communications and marketing, where she'll oversee publicity, marketing and brand management for the Toronto-based company's TV and film projects. Prior to joining Shaftesbury, Lung was senior publicist at Global TV. Shaftesbury also announced that Meg Campbell has joined the company as publicist, television and film. She previously worked as an associate publicist at Shaw Media/Corus Entertainment.
NSI names ZoomerMedia Bursary recipients
The National Screen Institute has named NSI Aboriginal Documentary team Janine Windolph and Trudy Stewart as the 2016 ZoomerMedia Bursary recipients. The award funds the training of a diverse individual or team who are "Zoomers" (45+ demographic) or producers of Mosaic programming, in any NSI program. Windolph is directing and and Stewart is producing the NSI Aboriginal Documentary project, Statement Gatherers Reflections, which features lessons and stories from the Truth and Reconciliation Commission's statement gatherers.
Love It or List It's new game 
W Network and Big Coat Productions have launched Love it or List It The Game, now available for free on iOs, Android and Facebook. Developed in partnership with Yellow Bear Studios, and with the participation of the Bell Fund, the game lets players act as a designer or real estate agent, who must satisfy the "must-haves" of clients.