Banff '16: For the love of the game
Day three at the Banff World Media Festival sees HBO dominate the session lineup, with key execs discussing talent-attraction strategies and new series.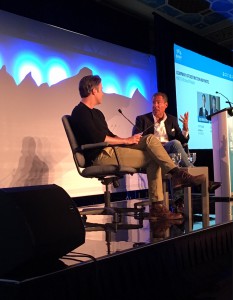 In the midst of endless talking about TV, sometimes it's nice to just watch it.
That was, one would assume, the clever insight behind the closing main-room session at the Banff World Media Festival on Tuesday, which saw HBO reveal a 30-minute sneak-peek clip of its upcoming miniseries, The Night Of.
Literally hair-raisingly suspenseful (this writer had goose bumps), the series takes viewers along for the ride, alternating between first-person to third-person perspective, as a crime is possibly committed, discovered, investigated and… well, no spoiler alerts here.
The Night Of appears to be an exercise in exquisite care, research and craft on the part of creator-writers Steven Zaillian (also the director) and Richard Price. Featured as part of a session titled "A Closer Look at HBO's Limited Series Model," moderated by president of HBO miniseries and cinemax programming Kary Antholis, the series offers a rare real-time look into the immediate aftermath of a suspected crime, a perspective Zaillian said he felt had not yet been attempted or explored before.
Originally having written the series to an HBO-standard 10 episodes, Anthopolis asked Zaillian if he could edit it down to seven. "I wrote it to eight, that was the best I could do – I couldn't write it to seven," Zaillian recalled. "And you guys said fine! I don't even know why you said seven in the first place."
"It's called negotiation," Anthoplis fired back, laughing.
The strategy behind bringing The Night Of to life, which Zaillian said took five years in total, working in association with HBO for much of it, touched on several trends, both in the industry at large today, and of the day itself, which largely focused on different HBO strategies (global programming, digital migration, managing the Girls universe).
The first is short-order series, one of the most noticeable trends of the 2016 upfronts in Canada. It's easy to assume that short orders are simply about about risk- and cost-management on the broadcasters' behalf, but in an ad-free environment like HBO, Anthopolis' and Zaillian's conversation revealed it's about creative concerns as well.
That dichotomy too was played out in Playback last week, as Rogers Media's Hayden Mindell discussed how short orders help the broadcaster mitigate risk in lieu of a pilot system in Canada, while Bell Media's Randy Lennox discussed meeting viewers' expectations for how premium series' play out and to keep quality high and costs on the screen. For producers hoping to play in the premium-series arena, it's all worthy food for thought in assessing series budgets and overall business models.
The second trend covered often throughout the week, and reflected in The Night Of session, was that of the increasing value of authenticity, both in creative tone and approach to TV content, but also in how relationships with creators are evolving in a competitive talent landscape.
Opening keynote speaker, HBO CEO Richard Pepler, spent much of his hour-long talk referencing the company's commitment to creators as a key part of its strategy.
"There is an experience in working with our company that resonates with artists," Pepler emphasized, prompting interviewer Ben Mulroney to ask if he's found that artists then in turn "become evangelists" for the network.
Pepler's response was to recount Last Week Tonight's host John Oliver's entry to the net, and HBO's attempts to woo him, promising him the "real estate he wanted" and to let him do what he wanted without network interference. Oliver took that info back to former colleague Jon Stewart, who said, "I heard that's actually true," prompting Oliver to come on board.
It was again echoed in HBO president of programming Casey Bloys's master-class conversation with Girls showrunner/EP Jenni Konner, who quipped "we all come to HBO to heal," after recalling a short-lived stint in network-TV land.
Why is all this important, other than to propagate an image of HBO as a cozy place to curl up with a project bible? Because as was discussed during Monday's "Buyers Series: Scripted Content" session, competing with Netflix for viewers has turned into also competing with Netflix for talent – and Netflix has gained a reputation for being especially light on notes.
Epix VP of original scripted programming Ben Tappen said his channel competes by "sitting down and explaining to [talent] why this is the right home for you," while A+E's SVP production, Colleen McCormick, said her company secured hit miniseries Roots in part by letting the series directors pursue their vision unfettered. "The more we give showrunners that sort of latitude, more they will come," she said.
But Bell Media's SVP of pay and specialty, Tracey Pearce, wryly noted that while Netflix may not give notes, it often expects its partners to – a strategy moderator Micheal Schnieder pointed out cleverly makes the linear broadcaster "the villain."
"Their process has been 'Bell Media, you give the notes," she said of the company's experience on Discovery miniseries Frontier. "It's not that they're not giving notes, but they've outsourced it," she pointed out.
"Our team spends a huge amount of time building relationships with TV producers before and after a series," she said. "It's about the relationships."
So while TV networks have long had the reputation of being soul-destroying creativity killers, parodied in countless shows themselves and in many a memoir, it is a reputation currently being dismantled by disruption – what once may have been a creative process is now becoming a business strategy.
And who's to say a little more love in the room is such a bad thing?
Also: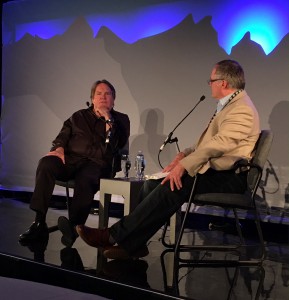 Veteran Canadian film producer Don Carmody was recognized by the festival with the Canadian Independent Producer Award at the Rockies gala Tuesday night, and in a feature interview with TV critic Bill Brioux earlier that day. Carmody entertainingly recounted career highlights like talking Kim Cattrall into joining Porky's ("I didn't cast her, but I talked her into it"), tricking distributors into warring for rights to Meatballs by inviting them to a screening packed full of his and Ivan Reitman's friends, who had been instructed to cheer madly whenever Bill Murray came on screen, and the great influence Cinepix's Andre Link and John Dunning had on his career.