marblemedia, Omnifilm developing The Odyssey remake
The '90s CBC TV series (pictured) is being adapted by Simon Racioppa and Richard Elliott.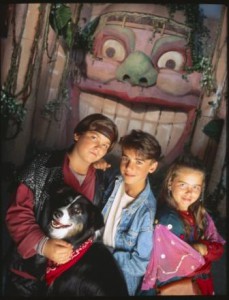 Toronto's marblemedia and Vancouver-based producer Omnifilm Entertainment have announced development on a remake of '90s TV series The Odyssey.
The original version of The Odyssey aired on CBC for three seasons, from March 1992 to December 1994, and was produced by CBC and Omnifilm Entertainment.
Simon Racioppa and Richard Elliott (Fangbone, My Babysitter's a Vampire) are adapting the original for a scripted series, which will be distributed internationally by Distribution360. No broadcaster has yet been announced for the project.
The project will be overseen by marblemedia's newly promoted VP of scripted Carrie Paupst Shaughnessy and Omnifilm Entertainment partner and executive producer Brian Hamilton.
The Odyssey is an adventure comedy about a group of kids who wake to find themselves in a strange forest called Downworld. With no idea how they came to be there, or how to get home, the kids quickly learn how to take care of themselves without the supervision of adults.
Marblemedia is also currently in production on three other projects: an unscripted series with celebrity chef Chuck Hughes, an adaptation of Edeet Ravel's novel Held, and a 13 x 60-minute sci-fantasy thriller Alchemy, which is being penned by Karen Walton.