Banff '16: Rockie Award Program Competition winners announced
Canadian productions took home seven awards, including one for Guru Studio's Justin Time (pictured).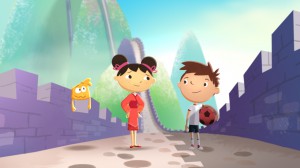 Winners of the Banff World Media Festival's annual Rockie Awards Program Competition were announced Monday and Canadian productions took home seven awards.
Montreal-based production companies did particularly well at the Rockies, which recognize excellence in TV and digital content from around the world. Avanti Ciné Vidéo's Mon ex à Moi (Dumped!) won in the Comedy Series category and Pour Sarah (For Sarah), from Encore Télévision and Duo Productions, won in the Francophone Program category. The Wanted 18  produced by Montreal-based Intuitive Pictures, in association with the NFB, Bellota Films and DAR Films, also won a Rockie for History and Biography program.
Guru Studio's Justin Time took home the Rockie for Pre-School Program and The Incredible Tales of Weirdwood Manor from All Play, No Work won in the Interactive Content for Kids & Youth category.
Toronto-based digital production company Jam3 took home a Rockie for Interactive Content for its Sons of Gallipoli, while Shaftsbury/Smokebomb's Carmilla, took home the Rockie for Brand Content.
The Rockies winners are selected from a pool of submissions from more than 40 countries and are selected by a panel that includes more than 350 industry executives from around the world.
The Jury Grand Prize will be awarded at the Rockies Gala tonight (June 14). Finalists for the award are: All Play, No Work's The Incredible Tales of Weirdwood Manor, HBO's Game of Thrones, Munhwa Broadcasting Corporation's The Great Meal and BBC's Shark.
Other Rockie winners are as follows:
Animation
Stick Man
BBC
UK
Arts & Performance Program
The Adventurers of Modern Art
Silex Films, ARTE France, Financière Pinault
France
Children & Youth Fiction Series
Sleeping Lions
Libra Television, David & Goliath for BBC
UK
Children & Youth Nonfiction Series
Teacher X
Public Television Service Foundation
Taiwan
Digital Fiction Series
My Jihad
BBC
UK
Digital Nonfiction Series
Children Deported
Flimmer Film
Norway
Drama Series
Line of Separation: The Morning After The War
Wiedemann & Berg Television GmbH & Co. KG
Germany
Environmental & Wildlife Program
Shark
BBC
UK
Lifestyle Program
The Great Meal
Munhwa Broadcasting Corporation
South Korea
Melodrama Series
Grey's Anatomy
ABC Studios
U.S.
Music, Performance & Variety Program
Isabella Rossellini's Green Porno Live!
Sundance Productions
U.S.
Reality Program
Shark Tank
>Sony Pictures Television
U.S.
Science & Technology Program
Uranium: Twisting the Dragon's Tail
Genepool Productions
Australia
Sci-Fi, Action & Fantasy Series
Game of Thrones
HBO
U.S.
Social & Investigation Program
Agorá: From Democracy To the Market
Small Planet
Greece
Television Movie
Snowy Path
Korean Broadcasting System
South Korea