D360 inks raft of new deals
The marblemedia company has announced sales across all of its verticals, and added several Canadian series to its catalogue. (Yaya & Zouk pictured.)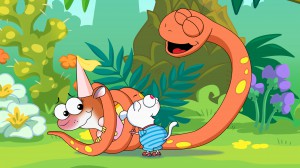 Toronto-based Distribution360 has signed a host of new deals, adding several Canadian series to its catalogue and selling 150 hours of programming across its verticals.
D360 has acquired The Mystery Files, from Montreal's Apartment 11 productions; Snapshots, produced for CBC Kids by Toronto's Forte Entertainment; Math Xplosion, Prime Radicals and Spellz from Ottawa-based prodco GAPC Entertainment; Confucius Was a Foodie produced by Toronto's Mark Media; and Good Earth Productions' Inside Paradise and Great Canadian Rivers.
The acquisitions come on the heels of the company's pre-MIP announcement in March that it  secured 200 hours of unscripted programming, including eight series from Zoomer Media and Tales by Light, it's first-ever 4K acquisition, from Untitled Film Works and Canon Australia.
On the sales side, D360 has sold preschool property Yaya & Zouk from Montreal's ToonDraw Productions to DHX in Canada for Family Junior, and to Jim Jim (Eastern Europe, Middle East and Africa, Benelux), as well as Leave it to Bryan, from Toronto prodco Si Entertainment, to Foxtel in Australia and African Business Channel in South Africa.
The company also announced sales from its CBC documentary catalogue, including Nuts about Squirrels to TV5 Monde (U.S., Latin America, Asia and French territories), The Man Who Tweeted Earth to Discovery  Europe, Safe Haven for Chimps to Bomanbridge (Philippines), Chasing Snowflakes to Bomanbridge (Philippines and Thailand), and The Sextortion of Amanda Todd to Planete + (France).
Scripted sales include season nine of Seven24 Films' Heartland to Corus Entertainment's Series+ for French Canada.
From its kids, teen and family vertical, D360 sold YOUniverse to U-7 Group for Ginger (Russia); Alphabet Stories to GHI Media (Israel); and The New Adventures of Figaro Pho to DHX for Family CHRGD (Canada). Broadcast rights to season two of Splatalot were also sold to Daydreams (Czech Republic, Netherlands) and Red (Russia).
On the factual entertainment side, D360 announced sales of RTR Media's Open House Overhaul to Bomanbrige (Philippines), Talit Communications Home (Israel), Russia's U-7 Group for Zagorodniy SD and Atresmedia (Spain); Zoomer Media's Healing Yoga to Foxtel (Australia); Si Entertainment's House of Bryan to Alati International (Russia) and African Business Channel (South Africa); Puppy SOS to Animal Family (Russia); and Mississippi Snake Grabbers to Amazon (Germany).
Along with the sales and acquisitions, the company has also announced that it has hired Donnie MacIntyre as Sales Manager, U.S., U.S. Hispanic, Latin America, Denmark, Norway, ROI, Asia. Prior to D360, MacIntyre worked as director of sales and marketing at Toronto's SK Films.
It's also brought on Rebecka Hornburg as a business development executive in charge of Scandinavian sales. Hornburg has previously worked as a trade consultant for the Swedish Trade and Invest Council. And finally, D360 has also promoted Smiljka Blajozovic to sales manager for French speaking Europe, German speaking Europe, Benelux, Iberia, Central & Eastern Europe, Russia and Pan-regional Europe; as well as Maria-Nicole Miriklis to sales and acquisitions executive covering Greece, Turkey, the Middle East and Africa.