Banff '16: The intersection of culture, tech, and ownership
The annual media conference kicks off with a few nuggets from Melanie Joly about what lies ahead and a deep dive with broadcast leaders on content monetization.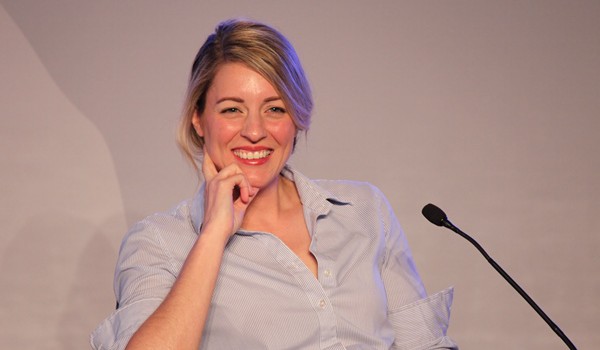 New Heritage Minister Melanie Joly didn't give an inch when eOne Television CEO John Morayniss pressed her on her views about how she sees marrying "creative necessity" with today's fast-shifting business models.
"What would be your answer, John," she fired back, not missing a beat.
The retort emphasized a point Joly made repeatedly, both in a conference-opening keynote at the Banff World Media Festival and in the conversation with Morayniss afterward – redefining Canada's creative policy was up to the industry and the public, not Joly herself.
"I'm not an expert in monetizing content – my job is to ensure the ecosystem is not just viable but vibrant," she said. "I'm the industry's champion, at Parliament… I'm there also to ensure we build a resilient new model that can face technological changes and different kinds of content consumption."
The response was perhaps cold comfort to an industry keen to gain insight into what lies ahead, following Joly and the Liberal government's announcement of a sweeping review of Canadian content rules this spring. But Joly would not be baited into answers she didn't yet have, and clearly believes is up to Canadians to shape.
She did, however, reveal that almost 10,000 people filled out the public survey related to the review, with 54% of respondents representing industry stakeholders and 46% from the public. The "vast majority of respondents," she said, indicated it was important for Canadians to have access to Cancon and local content in digital world. She noted that many respondents said they wanted access to free or inexpensive content, while on the other hand, the industry is trying to figure out how to monetize the same.
She placed an emphasis on promoting Canadian content abroad, which she said stood out in the survey responses and revealed that one of the few clear objectives following the review would be to develop Canada's first cultural export strategy, a la Britain's Cool Britannia.
Her speech and conversation with Morayniss – focusing as it did on finding a way for Canada's cultural sector to thrive in the same way that natural resources have for so long – led directly into part two of the first day, which saw Canadian broadcast leaders dissect monetization strategies for the new media environment.
While previous talks of this nature focused on things like ensuring Canadians could get what they want, when and where they wanted it, the opening-salvo-session at Banff dived quickly into some of the most contentious topics facing the industry right now: content ownership, international competition for rights and the nature of risk.
With Terms of Trade as it stands ending in 2017, who owns how much of what has been a concern of indie producers since Let's Talk TV wrapped last spring. And the panelists, including Corus's Doug Murphy, Bell Media's Mary Ann Turcke, Quebecor's Julie Tremblay and CBC's Heather Conway, (mostly) were clear about their desire to have an ownership stake in the content they air.
The argument came most strongly, unsurprisingly, from Corus CEO Doug Murphy, who has repeatedly made clear his desire to build Corus into a "pure play media and entertainment company." On Sunday, he reiterated that, saying the ability to grow that side of the business was a key insight in the company's acquisition of Shaw Media. He cited the growth of Fremantle Media, which had its seeds in a once-tiny broadcaster and morphed into the global production and distribution giant the industry knows today, as a key example.
"They were given a mandate by their controlling shareholders to make more content that they owned," he said. "They hit it big with UK Idol and the rest is history. Canada needs to have more companies like that too. Maybe they are born out of broadcast models. That's certainly our aspiration."
However, when moderator Peter Sussman asked the audience how many of them thought a shared ownership model would work for them, few hands went up. Murphy responded quickly: "That's the thing. It has to be a business model that works for everyone. The indie community is absolutely critical to Corus success. Next: we want to build our scale internationally. How do we think about working together differently? I don't know – we all have to be creative."
He also twice referenced production companies' need to re-examine their business models, saying he doesn't think dollars need to come off screen but "there's lots of costs that could be of value, that we could discuss taking off the screen so we can put it in another place."
Other topics touched on throughout the hour-long panel included the pressure Netflix is putting on traditional broadcast buying models (not just on the customer-attrition side) by what both Murphy and Turcke said was vast overpayment for popular content at the LA Screenings this year. Turcke, heading up Canada's biggest conventional net, was most adamant, saying she thinks that if business models don't change to accommodate the Netflix threat in the next year, she thinks the 2017 LA Screenings will be a tipping point for Netflix or other streamers ability to significantly disrupt what Canadian conventional nets are able to buy.
She too tied traditional broadcast's ability to survive to changing the way it does business in Canada, "having more control over content instead of just licensing."
"We are entering a world where we need to take an interest in the content we create. Sometimes we own a bit of it, sometime they own all of it – we're proud of it and we're doing it," she said. "[But] we need to manage the import – maybe we need to rethink the analog signals that flow in from the States. Do we need them to flow into 80% of the homes in Canada? [That and the streaming services] – those are the questions we need to be asking."
Her comment, early on the session, ultimately tied in succinctly to what CBC head Heather Conway had to say on the topic, closing out the conversation. She, like the other broadcast execs, sought to soften the ownership conversation
"Get the right rights. I don't have to own it. I don't need it for 10 years. Honestly, I think if you can negotiate good rights that can be exploited properly… how do you ensure you can use what you have and leave what you don't need? That can make for more complex conversations, but in the end might be a way for everyone to play in the system."