Upfronts '16: Corus focuses on scale, data, Joel McHale
The newly merged broadcaster officially unveiled its programming and advertising pitch to buyers and execs on Thursday night at Maple Leaf Gardens in Toronto.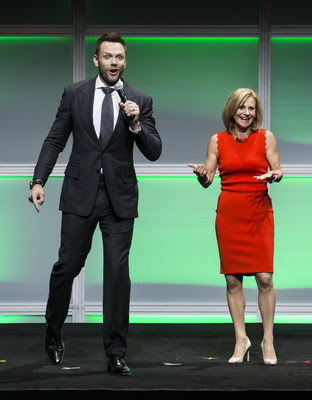 Where hockey greats once skated and students now strive is where Corus Entertainment chose to unveil its massive new offering to advertisers and industry execs on Thursday night.
Storied venue Maple Leaf Gardens (technically, the Mattamy Athletic Centre) was the site of Corus' 2016 upfront presentation, the first time it had packaged together its assets for the industry to view as a whole. The broadcaster went all-out for the big event – CEO Doug Murphy's first, he noted – with a full gala dinner hosted overtop the arena's ice pad.
The upfront was scheduled for a whopping four hours, plus pre- and post-dinner cocktails. But, in fairness, the broadcaster needed the time to outline in its large portfolio of conventional, specialty and advertising offerings while making sure its homegrown and imported talent got time to woo the crowd as well. (In a neat twist, the talent were assembled on stage for introduction and then paired with wranglers and sprinkled throughout the venue for the meal.)
Murphy opened the upfront by consolidating (pun intended) the company's offering into a three-point package: scale, "differentiated scale" (read: verticals) and local scale. He crowed the broadcaster's video assets now offer 1 billion video hours per month, that its "differentiated" inventory includes women's and kids lineups that sweep the top five channels in both verticals, and that its 39 radio assets can now be bundled with national brands like Global for greater reach.
However, one of the biggest "gets" in the Shaw Media acquisition has to be the broadcaster's set-top box program, which now falls under the Corus Entertainment umbrella. Following dessert, Corus SVP of sales Greg McLelland took the stage and announced that the program had now achieved its goal of including 500,000 households in its set-top box data set, making it, he said, "one of the largest set top box initiatives in the entire world."
"You can customize your segments and you can integrate any of your clients' first-party data into this solution," he explained, noting that Corus offers 16 buying profiles for advertisers to target. "Since we launched this program last fall… 57 agencies and 86 clients have already invested in this program. [After seeing success], these same advertisers invested 10% more with their agencies. We see that as a win-win-win."
McLelland followed what had to have been Corus COO Barb Williams' longest-ever stint on the stage as the consummate upfronts host. Williams took the audience through the broadcaster's entire new 2016/2017 lineup on new shows on both conventional and specialty, with a beef-tenderloin break in the middle. She packaged Global's offering into five themes: franchises (the caster now has all four Chicago series in its primetime portfolio, plus the new Blacklist spinoff Redemption, both for midseason, plus the NCIS franchise). The strategy, she said in a pre-upfront interview with MiC, was to grow those audience powerhouses where they could and defended NCIS's massive reach: "I'm sure you didn't talk about it at your last dinner party, but it is the biggest television show in the world." (Read the full programming breakdown here.)
The second theme was aging-down the caster's audience, which, with series like NCIS and Chicago, does tend to skew older. It bought four new comedies this year, all carried by notable talent, and was a genre where Williams said the caster "had a real opportunity to find longevity, stability and simulcast on the schedule." The third was its Canadian content lineup, which in the midseason will include six-part drama Mary Kills People and Ransom, both of which feature ripped-from-the-headlines inspiration. The fourth was "go to L.A. and buy a couple of new buzzy shows," and the fifth was "smart scheduling."
On scheduling, Williams noted in her upfront presentation that, guided by a "no repeat" mandate internally, Global is executing its simulcast strategy in two phases this year. When the NFL is airing on CBS in the first part of fall, Global will align with NBC's simulcast schedule and when CBS has football, it will then switch.
And while Williams likely has the most upfront-stage gigs under her belt of all the execs this week – her peers in Bell Media's Mary Ann Turcke and Rogers' Rick Brace both new in their respective roles as of the past two years – she was given a run for her money by comedian Joel McHale, who stole both the mic and the show with his off-script riffing on the, er, charms of Montreal and the whole upfronts circus.
While McHale's new show, The Great Indoors, has yet to be proven, his upfronts chops were totally on point – maybe that's the next comedy trend on the horizon? The really really real behind-the-scenes story of the television biz? Fire up your Final Draft, Aaron Sorkin.