Deals: Boat Rocker, Films We Like, Tricon
Boat Rocker Rights acquires the global distribution rights to Mountain Road Productions' library, plus more deals of the week. (Tricon's Counterfeit Cat pictured.)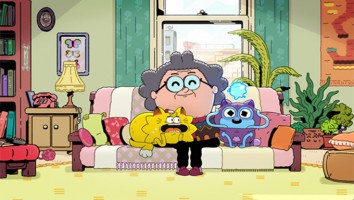 Boat Rocker Media
Boat Rocker Rights has acquired the global distribution rights to Ottawa-based Mountain Road Productions' library, which consists of 200 hours of TV and 14 series including Heavy Lifting (10 x 60 minutes) and I Wrecked My House (14 x 30 minutes). As part of the deal, the two companies have also agreed to a first-look deal for future projects produced by Mountain Road. The other series that Boat Rocker acquired from Mountain Road's catalogue are Sheltered (4 x 30 minutes), All for Nothing (39 x 60 minutes), Weekend Reno (13 x 30 minutes), The Real Estate Adventures of Sandy & Maryse (10 x 30 minutes), The Restaurant Adventures of Caroline & Dave (13 x 30 minutes), as well as Lofty Ideas (65 x 30 minutes), Design U (52 x 30 minutes), Me, My House and I (52 x 30 minutes), Broken House Chronicles (32 x 30 minutes), and Be Real (13 x 30 minutes), and Gourds (1 x 30 minutes) and Guts & Glory (1 x 30 minutes).

In other Boat Rocker news this week, the company signed three new licensing agreements for Orphan Black, including a deal with U.S.-headquartered customizable-merchandise company Zazzle. Read more here.
Sinking Ship
Singapore-based prodco Bomanbridge Media has sold PBS KIDS series Odd Squad to a number of broadcasters across Asia. The series, produced for PBS in the US and TVO and SRC in Canada by Sinking Ship Entertainment and The Fred Rogers Company, is heading to Taiwan's Public Television Service Foundation (PTS), Thai Public Broadcasting, Television Broadcasting Limited (TVB) in Hong Kong and Mediacorp Pte in Singapore.
Films We Like
Toronto-based boutique distributor Films We Like has acquired the Canadian distribution rights to Ingrid Veninger's latest feature Porcupine Lake. Production on the film is scheduled to begin in August, with Veninger producing and directing through her prodco pUNK Films. Read more here.  
Tricon Kids & Family
New animated series Counterfeit Cat from Tricon Kids & Family and Wildseed Kids has been picked up by Disney XD in the U.S. Read more here.
Corus Entertainment
Corus Entertainment's Global and French channel TF1 have jointly greenlit Ransom, a 13-part drama produced by Entertainment One, Sienna Films and France's Wildcats Productions. Ransom is set to premiere next year on Global in Canada and has also been picked up by CBS in the U.S. Read more here.