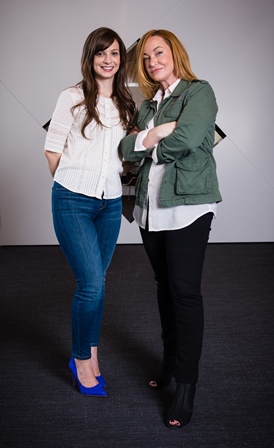 You can be clever/outrageous, like Veep. You can be expensive/fantastic like Game of Thrones. You can solve a cold case (or document a really, really long one). You can buy the Blue Jays.
Or you can tackle a weighty, of-the-moment subject matter with a hot young talent incubated in the golden age of TV and mentored by the best in the biz.
It's that last scenario that Global, Entertainment One (eOne) and Cameron Pictures are hoping is the magic elixir that crafts a Canadian hit with legs to travel.
The project is Mary Kills People, a six-episode series created by a young, just-graduated UBC student named Tara Armstrong and co-executive produced by Armstrong and Tassie Cameron. The series is featured in Corus's upfront lineup, released this week and being officially unveiled tonight, as one of just two conventional dramas greenlit for the next broadcast season.
Described by Armstrong as a drama crossed with black comedy, the 6-x-60-minute series follows an ER doctor named Mary Harris who moonlights helping terminally ill patients end their lives. Announced this week, Hannibal's Caroline Dhavernas will be playing Dr. Harris.
When the script landed at eOne via Armstrong's agent Lesley Harrison, it immediately attracted the attention of programming execs Mackenzie Lush and Rachel Fulford, who, in concert with Tecca Crosby, SVP creative affiars and Jocelyn Hamilton, president, Canada, eOne Television, quickly ordered the option. Armstrong was already known to Shaw Media through its Writer's Apprentice Program, and eOne went into early discussions with the broadcaster.
The lynchpin turned out to be Cameron, who had also become aware of Armstrong while reading sample scripts for the writers room at eOne's Private Eyes. A longtime eOne collaborator, Cameron was asked to board the project as showrunner and mentor to Armstrong.
"I thought Tara was amazing," Cameron says. "Then eOne and Shaw came to me and [the process] was really organic – we've all known each other for a long time and worked on a lot of projects together," she says. "I leapt at the opportunity."
The series is representative of a distinct theme in Cameron's career: exec-producing or creating long-running, wide-appeal dramas that end up creating new opportunities for next-gen talent. Having finished Rookie Blue and recently, a personal project of her own, Cameron was ready for something new. "I'm very interested in those kinds of creative partnerships," she says. "I love collaborating with other writers, young or old, feeling like I'm learning as much from them as they are from me."
The series was officially greenlit for Global at six episodes. The short run was ordered for "purely creative reasons" the network says, as the story arc fit the six-ep frame "perfectly."
Global is an ideal home for Mary from many perspectives – not only had Rookie done so well for the broadcaster (it also aired on ABC in the U.S.), it fit Shaw Media's mandate to have more women in power positions on its original shows. Mary Kills People will have a female star, a female director on all eps and has a diverse writing room.
While organic in its execution, Mary Kills People represents an approach that many in the industry see as critical to increasing diversity in Canadian television: mentorship and risk-taking. eOne and Shaw Media took a risk greenlighting a series created by a rookie writer, but mitigated the odds by bringing on Cameron.
Barb Williams, who was president of Shaw Media at the time of the MKP commission and is now the EVP and COO at Corus Entertainment, says the series shows that the system can, and is, working.
"It's such a great example of training programs specifically designed to get women in the door and put them under the wing of someone like Tassie. Watch for Tara Armstrong in the next 10 to 20 years – she's going to be a superstar."
But back in the the "writing shed," as Cameron refers to her backyard workspace, future stardom is far from mind as the two women hash out a tight story arc in a new format (Cameron has never done a six-ep season before) with an unconventional writing room (the team mainly works remotely). Hopes are high for the project from all sides, but Armstrong thinks what will make it stand out is treating the subject of elective death with compassion, authenticity and humour. "Death is one of the few things that connects us all in a really profound way."
"The title sums up the tone in a way that is really cool," Cameron chimes in. "It's irreverent, it's in your face, it's not a euphemism and you can tell that whoever came up with that title has a sense of humour. I think the tone of this series is really special and different – it's not issue-driven, it's character-driven. There's this question: is she a hero or is she a criminal?"
It's a question everyone involved hopes the world will be very curious to find out.
This article originally appeared in Playback's Summer 2016 issue and has been updated with new information