Farpoint Films cooks up new kids culinary series
Production on Kid Diners has started in Manitoba. (Hosts Aynalem Plett Martens and Xander Boulard pictured.)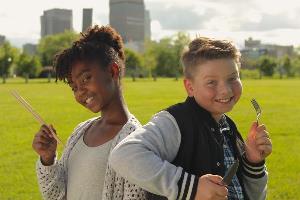 Winnipeg-based production company Farpoint Films has started production on a new original children's series for TVOKids.
Kid Diners (13 x 30 minutes) will follow hosts Aynalem Plett Martens (pictured left) and Xander Boulard, both from Winnipeg, as they travel across Canada and test out must-eat locales. Production in Winnipeg wrapped on June 6. The series will film later this month in Steinbach, MB and, once the hosts are finished school for the year, the production will then travel from Moncton, NB to Victoria, B.C.
In each episode, one host will explore a local mom-and-pop establishment while the other will visit a fine-dining restaurant. The series aims to show kids where their food comes from and how to prepare it.
The series is scheduled to air on TVO in the spring of 2017, and on TVOKids.com.
"We are so proud to have supported the development of this exciting made-in-Manitoba project," said Carole Vivier, Manitoba Film & Music's CEO and film commissioner, in a statement. "This series will create long-term employment for local crew while educating kids about the culinary arts in fun and creative ways."
Kid Diners is written and co-created by Chris Charney and directed by John Barnard. It is produced by co-creator Scott R. Leary and Kyle Bornais. The series is produced in association with TVO.
Image courtesy of Farpoint Films