Production underway on Mohawk Girls season four
New episodes of the Rezolution Pictures series are expected to air this fall.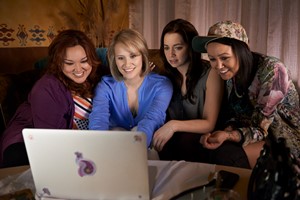 Filming is underway on the fourth season of APTN's comedy-drama Mohawk Girls.
The new 8 x 30-minute season, produced by Rezolution Pictures, will be shot in two blocks over the course of the summer. Production is taking place in Montreal and the Kahnawake Mohawk Territory in Quebec, with the new episodes set to air on APTN in fall 2016.
In addition, seven episodes of the show's third season were picked up by Air Canada enRoute Inflight Entertainment for domestic and international flights. The episodes will begin airing on Air Canada's Comedy TV channel this month.
Mohawk Girls was previously picked up by U.S.-based distributor GRB Entertainment, which is representing the series globally. The show also began airing on SBS network in Australia on June 6 through a previously announced deal.
The series is created and executive produced by Tracey Deer and Cynthia Knight, with Deer directing and Knight acting as head writer. Rezolution's Catherine Bainbridge, Christina Fon and Linda Ludwick serve as producers and executive producers on the show.