First Gen Films, Phi ink partnership
The Toronto prodco and Montreal multidisciplinary organization will work to develop and coproduce films. (First Gen's Christina Piovesan pictured.)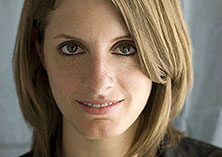 First Generation Films and Montreal-based production company Phi have entered into a partnership.
Phi, a co-producer on Guy Maddin's 2015 festival hit The Forbidden Room, has come on board as a member of First Generation Films, the Toronto-based prodco started by Christina Piovesan in 2007.
While there are no projects lined up at the moment, the two companies will work together to co-produce films, Myriam Achard, director of public relations at Phi, told Playback Daily.
Phi Centre is a multidisciplinary space in Montreal that includes a production facility. It was founded by artist Phoebe Greenberg and opened in 2012.
In addition to The Forbidden Room, Phi also co-produced 20,000 Days on Earth, starring musician Nick Cave.