Quebec broadcast execs fire back at Lacroix
TVA Group, Groupe Serdy and Groupe V Media are arguing that Lacroix "mischaracterized" their position in his speech at UBC on Tuesday.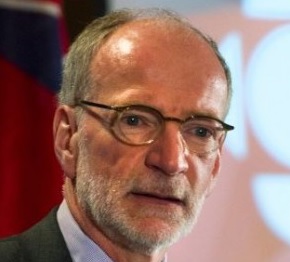 Quebec broadcast heads Sébastien Arsenault (Groupe Serdy), Maxime Rémillard (Groupe V Média) and Julie Tremblay (TVA Group) fired back on Wednesday at remarks made by CBC/Radio-Canada CEO and president Hubert T. Lacroix this week.
In a joint statement, the trio said that Lacroix had "mischaracterized" their position in a speech he made Tuesday night at the University of British Columbia.

In his address, Lacroix said that "some private broadcasters have suggested that the solution to their declining revenue is to limit what CBC does for Canadians to some sort of 'status quo' or to make us 'gap fillers.' This view is as short-sighted as it is mistaken."
In the rebuttal, the Quebec broadcast toppers suggested it was to them to which the comments were directed, and denied they were advocating for a status quo. The trio denied the allegation they wanted to see the CBC kept to a status quo, but that they were advocating for "a thorough review of CBC/Radio-Canada's mandate."
Arsenault, Rémillard and Tremblay framed the CBC's programming strategy as a "ferocious" competition with private broadcasters and argued that the organization's budgetary allotment needs more oversight. "There seem to be no constraints on the public broadcaster's quest for ratings: it is announcing big-budget variety shows, purchases of American series, and shows featuring A-list stars who command huge salaries," the statement read.
The liberal government earlier this year pledged $675 million in funding to the CBC/Radio-Canada over the next five years. If the CBC's use of the money is not monitored, the "already precarious balance between the public broadcaster and the rest of the industry will be destroyed," said the statement.
The statement concluded by saying that private broadcasters in Quebec believe that CBC/Radio-Canada has an important role to play, but that it should not be using its additional funding to "outpace" private broadcasters.