Cinespace unveils facility for York U students
The $2.5 million facility, which is located in the heart of Cinespace Film Studios, will seek to expose students to real-world tech and experience.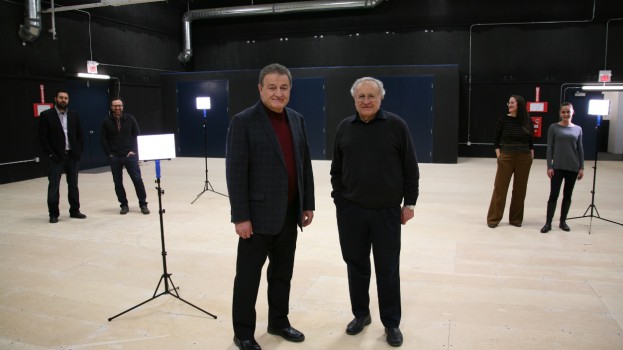 Cinespace Film Studios has announced the opening of a $2.5 million facility to provide hands-on training to students of York University's School of the Arts, Media, Performance and Design (AMPD) program.
The AMPD Motion Media Studio @ Cinespace, which is located in the heart of Cinespace's Film Studios, in Toronto was unveiled Wednesday night. Featuring two studios covering 6,500 square feet, the new space also has seminar rooms and a suite of smaller studios.
The idea for an educational facility originated at Cinespace's Chicago studio, the studio's VP Jim Mirkopoulos told Playback Daily. The U.S. arm of the studio four years ago partnered with DePaul University on a similar program.  The success was twofold: DePaul's film program soon after was ranked in the top 25 U.S. film schools and Cinespace was able to increase the number of crews in Chicago from two to six since 2009, an increase it links directly to the program. "This is a capacity-building initiative but it's also a research and development initiative," noted Mirkopoulos.
"Students will graduate having already captured content for the Oculus Rift," he continued. "It's huge when students can go into the workforce already having that under their belt."
Construction on the space took about six months, with the installation of specialty flooring and data storage systems.
For Cinespace, said Mirkopoulos, it was of paramount importance to make sure the AMPD studio was located in a central part of the Toronto studio.
"We want students to be fully immersed in the day-to-day film and television production community. This way when they graduate, they already have lots of experience of being in a studio complex, and, more importantly, they are already aware that there are high-quality jobs waiting for them in a growing industry."
As well, Mirkopoulos said that the plan is to hold masterclasses to increase students' exposure to real-world production activity.
"A Hollywood studio head or the head of a Canadian production company will devote an hour or two of their day during their visit to Kipling studios to sit with the students and talk about the details of what they do and how they do it."
The AMPD Motion Media Studio @ Cinespace opens this September, when U.S. titles such as Reign, American Gothic and Incorporated are shooting at the complex. Good Witch and 12 Monkeys will also be shooting there, pending greenlights, added Mirkopoulos.