Production on Epic Studios underway in Toronto
The new web series for Maker Studios is being produced by iThentic, Farmhouse Productions and duopoly. (EpicLLOYD pictured.)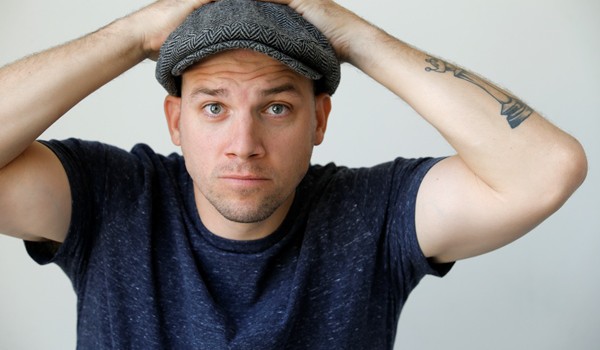 Production on Epic Studios, a new web series starring YouTube star EpicLLOYD of Epic Rap Battles of History, has begun in Toronto.
The 13-episode comedy, which is being produced by iThentic, Farmhouse Productions and duopoly for YouTube content network Maker Studios, is set to premiere in September. Each episode will run roughly seven minutes in length.
The series follows Lloyd Steflan (EpicLLOYD, or as he's also known, Lloyd Ahlquist), a closet rapper who inherits his estranged father's Toronto music studio after he dies in an accident.
Catherine Tait, iThentic co-founder and president of duopoly, said she connected with the project in 2014 at Just For Laughs ComedyPro, where its creators Ahlquist, Jill Goslicky and Aaron Krebs were pitching the series.
Tait optioned the series and then convinced the L.A.-based creators to set Epic Studios in Toronto, which she said they were willing to do if it meant their series would finally come to life. "We agreed that we would have a Canadian showrunner, Josh Gal, and a Canadian team work on the project and they were just really, really happy to be able to see their idea come to the screen," Tait told Playback Daily.
After securing funding from the Independent Production Fund and the Ontario Media Development Corporation (OMDC), the producers approached Maker Studios to sign on as co-financiers. Ahlquist, whose Epic Rap Battles of History has 13.3 million subscribers and more than 2.9 billion views, is a Maker Studios creator partner.
"The reason [Lloyd] was willing to do this was because he wanted an opportunity to work on a scripted show and he hadn't had that opportunity as yet," said Tait. "Lloyd is one of [Maker's] top performers, so they were very, very keen to give him that opportunity."
Tait ultimately hopes the web series will appeal to EpicLLOYD's millions of fans and show them a different side of the comedian. "What we're trying to do is broaden his audience [and give them more than] that quick snack on a funny music video, but something that's story-based," she said. "That's going to be different for his audience and hopefully they will embrace it."
She added that the series will also be an opportunity to introduce the show's Canadian talent to EpicLLOYD's audience. "All of the other performers are Canadian, the writers are Canadian, so this is a chance for them to get exposure to a global audience, which is very promising for everybody involved," she said.
Epic Studios was produced for Maker Studios by iThentic, Farmhouse Productions and duopoly in association with the Independent Production Fund (IPF) and the OMDC. It was written by Josh Gal (Working The Engels) and Amanda Brooke Perrin (Spun Out), and directed by Rob Stefaniuk (Anxietyville).